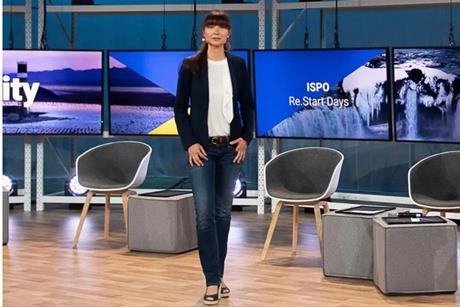 2021-07-21T17:15:00+01:00
For the next edition of ISPO Munich, scheduled to take place on Jan. 23-26, 2022, the ISPO Group is planning to reserve a dedicated B2C hall for consumers at Messe München's fairgrounds. They would be invited to try out new sports and new products. They would also be introduced to ...
2021-07-23T16:24:00+01:00

Devan Chemicals, the Belgian-based textile finishing expert, has been supporting high performance sport in the U.K. and Belgium with its Moov&Cool "'cool comfort technology." The company has worked alongside the English Institute for Sport (EIS) and Sally Cowan, a garment research and development prototyping company in the U.K. to apply ...

2021-07-22T12:24:00+01:00

The upcoming OutDoor by ISPO, dubbed the "Global Summit Edition" and scheduled to be held in Munich on Oct. 5-7, 2021, will focus more on the conference component in combination with the European Outdoor Summit and offer a scaled-down exhibition space with pre-built booths for a maximum of 80 to ...

2021-07-22T08:57:00+01:00

The 95th edition of Expo Riva Schuh and the 6th edition of Gardabags attracted over 2,700 visitors from 79 different countries, confirming their international reach despite the travel limitations caused by the Covid-19 pandemic. Buyers came from Europe - especially Italy, Germany, Poland, Spain, France and the Netherlands - as ...

2021-07-21T16:14:00+01:00

The Delta variant of Covid-19 has led the government of Bangladesh to impose a nationwide lockdown on the country's textile and apparel industry, which is the world's second-largest exporter of these products after China, starting on July 23. It will come on the heels of the Muslim Eid al-Adha holidays, ...

2021-07-21T14:42:00+01:00

Li & Fung, the Hong Kong-based supply chain management company, has joined forces with an environmental organization, Canopy, to help protect forests. The company says it will collaborate with its brand and retail customers to better protect forests through responsible material sourcing as well as sustainable product manufacturing and logistics. ...

2021-07-20T17:06:00+01:00

Pou Chen and Kingmaker Footwear are shutting down their shoe factories in Vietnam, as previously reported, and we now hear about the shutdown of at least another local shoe producer, Chang Shin Vietnam Co. Meanwhile a couple of important producers of sports apparel are doing the same as the Covid-19 ...

2021-07-20T14:15:00+01:00

The revenues of Stella International, the Chinese footwear group based in Hong Kong, rose by 58.1 percent to $392.1 million in the second quarter of 2021 from $248.0 million a year earlier, when the company's sales were negatively impacted by the outbreak of the Covid-19 pandemic. The top line, however, ...

2021-07-19T09:28:00+01:00

HeiQ and The Lycra Company have entered into a broad-based collaboration across multiple technology and brand platforms to bring more of their textile technologies to consumers. Building on exploratory discussions that started in early 2019, HeiQ and Lycra have elected to leverage their shared philosophies and strengths in textile science, ...

2021-07-16T17:01:00+01:00

Siegfried Winkelbeiner, managing director of Schoeller Textil, will go into retirement and, after ten years with the Swiss textile company, hand over the helm to Joachim Kath this month. Coming from the chemical industry, Kath joined this major supplier to the sporting goods industry one and a half years ago ...

2021-07-16T17:01:00+01:00

As a derivative of the ISPO Open Innovation platform for community activation, the ISPO Group has now launched the ISPO Collaborators Club as a new network for both industry members and consumers. As a member, you can keep your finger on the pulse of the consumer and thus improve your ...

2021-07-15T17:09:00+01:00

A sudden and violent outbreak of the Covid-19 epidemic in Ho Chi Minh City (HCMC) and its environs is expected to delay shipments of sports shoes and apparel and may result in a loss orders for local manufacturers, according to the local NV Express, which cited the shutdown of 29 ...

2021-07-13T15:41:00+01:00

Polartec says it will completely eliminate the use of PFAS (including PFC) in its durable water repellent (DWR) finishes, effective immediately. The functional fabrics will not make any sacrifices in terms of durability or water-repellent function despite the elimination of PFAS, Polartec claims. This new development fits seamlessly into the ...

2021-07-13T14:35:00+01:00

Altexa, an Italian company involved in the Ppastic resin & synthetic fiber manufacturing industry, announced the launch of a new HDry b5 laminate membrane at the Aug. 10-12 Outdoor Retailer trade show in Denver, in cooperation with its U.S. partner, GHS Holdings. The company's new HDry b5 membrane is a ...

2021-07-12T09:23:00+01:00

Led by Portugal's minister of state for the economy and digital transformation, Pedro Siza Vieira, Carbon Team's new production facilities were officially inaugurated on July 9 in Camoia, in the Portuguese municipality of Vouzela. Carbon Team is the first European automated carbon bicycle frame factory outside Asia. Hard-tail monocoque carbon ...

2021-07-12T08:23:00+01:00

Klarna, the retail banking, payments and shopping service from Sweden with over 90 million active users worldwide and 2 million transactions per day, has acquired Hero, a social shopping platform founded in 2015 and based in London and New York. The Wall Street Journal said Klarna would pay about $160 ...

2021-07-07T16:47:00+01:00

CrossFit has appointed Jason Dunlop, a former Nike executive, to the new role of president. Dunlop also held senior roles at Starbucks, Canada Goose, Waterstones, The Body Shop, Marks & Spencer,and The Gap. At Nike, he was the executive responsible for the brand's Direct-To-Consumer (D2C) business across Europe, the Middle ...

2021-06-30T16:38:00+01:00

The Global Sports Innovation Center (GSIC) powered by Microsoft and the Spanish Association of Sporting Goods Manufacturers and Distributors (Afydad) will be forming a joint commission to expand the use of technology in the sporting goods sector, notably in terms of digitalization, and take part in Spain's Development Plan for ...

2021-06-30T14:14:00+01:00

GoodWeave International, a non-profit organization founded in 1994 by the Nobel laureate Kailash Satyarthi and with offices in Washington DC and Oxfordshire, England, has released its "Best Practice Series to Eliminate Child Labor in Global Supply Chains" as a resource in connection with the International Year for the Elimination of ...

2021-06-30T14:12:00+01:00

Patagonia has signed a multi-year supply agreement with Infinited Fiber Company, a Finnish circular fashion and textile biotechnology company, to guarantee access to its regenerated textile fiber, called Infinna. The virgin-quality fiber comes with the soft and natural look and feel of cotton. It is made from cotton-rich textile waste ...

2021-06-29T15:46:00+01:00

SportEasy, a French web and mobile app for the management of amateur sports, has secured €5 million in a Series A funding round with support from Seventure Partners via Sport & Performance Capital, as well as the Macif insurance company and various business angels who have been supporting the start-up ...

2021-06-29T15:46:00+01:00

Engineers at Purdue University have developed battery-free smart clothes powered by Wi-Fi that are resistant to laundry. Unlike common wearables, these smart clothes are not powered by a battery, but through a flexible, silk-based coil sewn on the fabric, which means wirelessly. By collecting energy from Wi-Fi or radio waves ...

2021-06-25T14:08:00+01:00

Oros says it has received $14.5 million in a Series A funding round led by Elizabeth Street Ventures and Enlightenment Capital. Oros, based in Portland, Oregon, is an American start-up that leverages emerging NASA technology to develop advanced thermal materials and high-performance, low-impact apparel. The brand has developed a new ...

2021-06-24T10:02:00+01:00

USWE, a Swedish sports and outdoor brand that is in the process of going public, is launching a partnership with Polygiene, the Swedish ingredient brand, to offer running vests that fight odor and last longer. USWE specializes in bounce-free backpacks and hydration packs for mountain biking, running, skiing and motorsports. ...

2021-06-22T16:32:00+01:00

Researchers at the Massachusetts Institute of Technology (MIT) have tested what is thought to be the first fiber with digital system capabilities. It is able to sense, store and process activity data digitally after being incorporated within a shirt. Fabrics with digital system capabilities could be used in physiological monitoring, ...

2021-06-22T14:06:00+01:00

The European Commission said it has opened a formal anti-trust investigation to assess whether Google has violated EU competition rules by favoring its own online display advertising technology services in the so called "ad tech" supply chain to the detriment of competing providers of advertising technology services, advertisers and online ...

2021-06-22T10:20:00+01:00

A backlog at Yantian, China's largest container terminal, will take several weeks to clear, according to Maersk. The world's largest shipping company told the news agency AFP that it had been informed by the port's authorities that activity will return to normal by the end of June. The terminal had ...

2021-06-21T11:57:00+01:00

Westward Partners, a Seattle-based private equity firm focusing on companies in the Pacific Northwest, has acquired Superfeet, a manufacturer of insoles and recovery footwear founded in 1977 and based in Ferndale, Washington. The terms of the transaction were not disclosed. Westward will take over majority ownership of the company from ...

2021-06-21T11:57:00+01:00

SportPursuit, a flash sales website for premium outdoor and sports gear currently selling mainly in the U.K. and Germany, announced its partnership with bd-capital, a pan-European, operationally managed private equity firm established in 2019 in London. According to a company statement, bd-capital's investment, whose terms were not disclosed in a ...

2021-06-18T14:56:00+01:00

Gucci, the Italian luxury fashion brand owned by Kering, announced the launch of a new sustainable animal-free, plant-based material known as Demetra, which will be used by other Kering brands and then made available to competitors from next year. The new material is making its debut on three sneaker models ...

2021-06-16T13:02:00+01:00

The plain "Buy now"-button seems to be a thing of the past. Online shopping is reducing friction, getting more intuitive, more fluid – and more social. "Social commerce" – or "social shopping" – is the fastest-growing distribution channel worldwide. Shoppable posts and stories allow brands and users to tag specific ...

2021-06-15T15:22:00+01:00

UEFA and AntChain announced a new five-year global agreement on the eve of the UEFA Euro 2020 championship. The football tournament has just started after its pandemic-related postponement from last year. Under the terms of the deal, AntChain will act as the official blockchain partner of the delayed tournament. More ...

2021-06-15T12:48:00+01:00

Pitti Immagine, the organizer of various fashion-related trade shows in Florence, is adding a new service, Pitti Studios, providing a new communication platform for exhibitors. They can have their new product releases photographed or filmed by the Pitti team. The customized images and film recordings can be integrated into a ...

2021-06-15T12:48:00+01:00

Figures from the Spring 2021 Report by Euratex (European Apparel and Textile Confederation) show a dramatic contraction in the demand and production of textiles and clothing. The EU's turnover in textile fibers and fabrics declined by 9.3 percent in 2020 as compared to 2019. For clothing, the decline was even ...

2021-06-14T17:07:00+01:00

Amnesty International has released a 160-page report titled "Like We Were Enemies in a War": China's Mass Internment, Torture and Persecution of Muslims in Xinjiang.

2021-06-14T12:35:00+01:00

Aetrex is releasing a 3D foot scanner with two selling points: size and cost. Using a proprietary computer system called FitGenius, the Albert 3DFit will complete a foot scan in "less than 10 seconds" and is accurate to within one millimeter, the company claims. The system then compares the scanned ...

2021-06-11T17:17:00+01:00

Adidas has agreed to subscribe for €3 million worth of shares in Spinnova's planned initial public offering (IPO). Spinnova, a Finnish manufacturer of textile fibers derived from wood or agricultural waste, is planning to list on the Nasdaq Helsinki First North Growth Market. The company is building its first factory ...

2021-06-10T12:43:00+01:00

Nice Footwear, an Italian footwear licensing company that also owns the Kronos brand of sports shoes, is considering a reshoring of its production from the Far East to Italy and the launch of e-commerce. Specializing in the design and sourcing of sneakers, the company has a team of 21 designers ...

2021-06-09T13:21:00+01:00

The Lycra Company is launching a new print and online advertising campaign, "Keep in the loop with Lycra," aimed at driving the conversation about the circular economy in textiles. The campaign is an invitation to customers and industry professionals to join Lycra in using resilient, sustainable materials that can be ...

2021-06-08T16:19:00+01:00

France's Competition Authority (Autorité de la Concurrence) has fined Google €220 million for "having abused its dominance of the ad-server market with respect to publishers of websites and mobile applications." The authority calls this "the world's first ruling on the complex algorithmic auction processes by which online 'display' advertising functions."

2021-06-05T09:05:00+01:00

The co-chairmen of the Congressional-Executive Commission on China, Senator Jeff Merkley of Oregon and a member of the House of Representatives, James P. McGovern of Massachusetts, have addressed a letter to Chris Paul and Michele Roberts, the president and executive director of the National Basketball Players Association (NBPA). In it ...

2021-05-31T16:00:00+01:00

Hyosung, the Seoul-based provider of textile solutions, has appointed Claire O'Neill and Julia Nam as European and U.S. marketing managers, respectively.

2021-05-25T15:33:00+01:00

Sevilla FC has launched an official store on Aliexpress, one of Alibaba's e-commerce platforms. The online store offers a range of products under the Spanish football club's brand like clothing, baby items, home decor, pet products, earphones and accessories, including reusable masks. The store offers free shipping to its customers ...