When people think of the Chinese textile industry, domestic brands are usually not the first association that comes to mind. But they do exist and thrive, and one of them is now entering the international stage with force: Bosideng. Bosideng is a brand that not only inspires with an exciting company history but also strikes a chord with its aspirations, bringing together internationally renowned designers and the processing expertise that abounds within the company. From 2021 to 2022, Brand Finance, one of the world's leading brand equity assessment agencies, listed Bosideng in the "Brand Finance Apparel 50" for two consecutive years; Euromonitor International, the world's authoritative market research organization, released the global down garment research report in 2020, showing that both the sales amount and sales volume of Bosideng down garments ranked first in the world. The brand is surging its influence.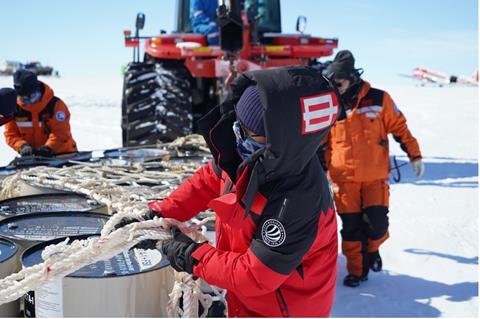 Bosideng - Certified as the no. 1 brand in down coats sales globally
The brand counts 200 million customers in 72 countries and is a market leader, especially for down-padded apparel in China and even in the world.

In the early days, two main assets made its down garments stand out from the mass: They were significantly lighter and more colorful than those of its competitors. The young brand Bosideng became a hot seller in China. It has also outfitted expeditions to the Antarctic, Arctic and Mt. Qomolangma with technical down clothing since 1998, proving Bosideng's leading position in down garments.
Today, Bosideng is expanding its footprint to the creation of a market-competitive brand with a strong identity that is proudly and recognizably Chinese and shows a high aesthetic and quality standard in the product. The company has been working with renowned designers on the apparel collection, like former Ralph Lauren design director Tim Coppens, former Balenciaga and Louis Vuitton designer Anton Tron, and Yohji Yamamoto's collaborator Ennio Capasa. From 2019 to 2020, Bosideng cooperated with designer Jean-Paul Gaultier two consecutive times to launch jointly-designed series. They present the perfect partnership of international fashion aesthetics and outstanding down apparel expertise.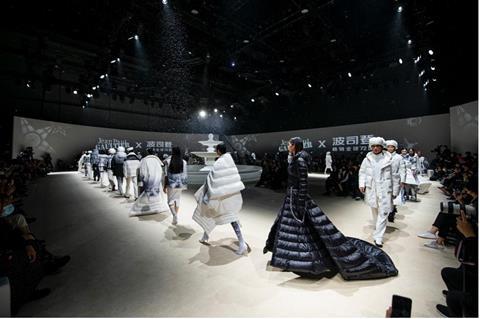 Bosideng and Jean Paul Gaultier Release the New-Generation Down Jacket Collection
Bosideng is shining under a bushel: in 2018, the brand debuted at the New York Fashion Week; in 2019, superstars like Nicole Kidman and Kendall Jenner saw the brand's show at the Milan Fashion Week. And the brand attended the London Fashion Week in 2020 with a stunning fashion show. Bosideng was creating a serious buzz with its exciting blend of Chinese heritage and international design.
In 2021, Bosideng won its first-ever ISPO Award with the Bosideng Composite Structure Camping Down Jacket, co-designed by IdéesKréationOn – an urban-style outdoor jacket offering multiple ways of wear by layering and adjusting the components depending on the individual need of the moment. The jacket is not only a stylish, highly functional and innovative product: it is particularly sustainable, firstly by its versatility that makes it suitable for a variety of uses and environments and secondly by the thoughtful choice of materials chosen.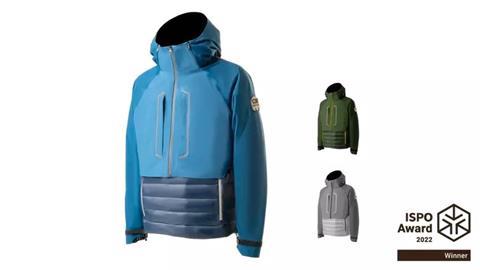 The Composite Structure Camping Down Jacket, with its sophisticated versatility, is the one side of Bosideng's spectrum. A more basic but utterly sustainable new product is the Zero Pressure Down Jacket, which has won the internationally renowned Red Dot Award for outstanding design in June 2022 – an honor and a great motivation to keep following the path to a standalone design that merges Chinese and western influences with unrivaled craftsmanship and the best materials available on the market. The Zero Pressure Down Jacket is completely made from recycled polyamide (including zippers and threads), and for separated recycling of the down filling and the fabrics, there are two pre-drawn lines on the jackets that need to be cut. A small and clever solution to a big problem.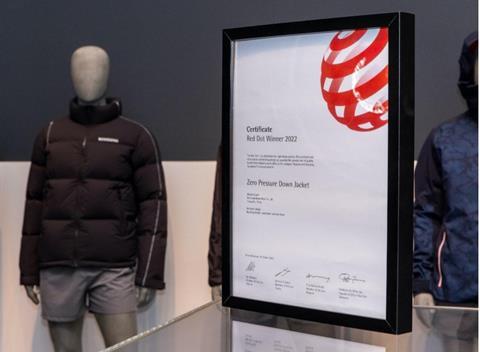 As the COVID-19 pandemic is raging worldwide, nearly everything stops its pace. However, Bosideng bucked the trend and has achieved growth in both revenue and profit for five consecutive years. Bosideng runs a flagship store in London and is now present at 350 selected high-end retailers in Italy, connecting consumers around the world more closely: A Chinese brand on its impressive way to being a relevant market player.
Gao Dekang, Founder, Chairman and CEO of Bosideng, gives details on the company
You do have a very modern production site. Could you give us a little insight?
Gao Dekang: Following the trend of the global digital economy, Bosideng has recently accelerated intelligent manufacturing upgrading and a comprehensive digital transformation. We have developed a software system and big data center with independent intellectual property rights and built the most advanced intelligent manufacturing and production base and intelligent distribution center in the clothing industry, achieving the connectivity of all devices and real-time market information link. With integrated goods and a national inventory, we are able to quickly and accurately serve users.
Due to such characteristics as quality traceability, precise and controllable output, and transparent and visible process, our digital supply chain platform achieves the 7-day flexible and quick response and ensures sufficient inventory of well-sold goods and no production for those hard to sell, completely solving the problem of "structural shortage" of traditional clothing enterprises. It is far ahead of the industry level in terms of intelligence and quick response capability.
Among all Chinese down manufacturers, Bosideng has achieved a number one ranking as the down specialist. How did that happen?
As early as 1995, Bosideng took the lead in proposing the "fashion of down jacket," leading the first fashion revolution in China's down jacket industry. Bosideng took the lead in conducting technology programs, successfully solving the down-proof problem in the industry and receiving the invention patent. In terms of materials, Bosideng was the first to raise the down content to 90 percent in 1995. At present, some high-end product lines use Grade 5A down with the fill power up to 1,000 cuin, manufactured in lighthouse products like the "Qomolangma collection" in 2019 and "Qomolangma II" in 2021. The Qomolangma II multi-layer three-dimensional filling structure, a patented independent innovation, adopts the world-recognized rare goose-down blends from the premium origin located at the 43rd north parallel in China. It is worth mentioning that for the first time in history, we apply the aeronautical material technology and BeiDou Navigation Satellite System in the field of clothing.
Does sustainability play a role in your company setup and product?
Since 2021, Bosideng has established ESG (Environmental, social and corporate governance) management structure from three levels of decision-making, management and execution, and has integrated ESG management work into all aspects of corporate strategy and operation, and excelled in product quality improvement, supply chain, employee well-being, social responsibility and other issues. In 2022, MSCI upgraded Bosideng's ESG (Environment, Social and Corporate Governance) rating from "BB" to "BBB," indicating that Bosideng is continuously improving its level of sustainability.
Do you source materials mainly in China or also elsewhere in the world?
Bosideng is committed to higher quality products by integrating global superior supply chain resources and ingredients like the technological down by Primaloft, the world's top filling material supplier. We work with Cordura military materials that take the lead in the world in terms of wear and tear resistance. And we are also a licensed Gore-Tex partner and manufacture a lot of apparel with Pertex's top lightweight fabric, enabling customers to shake off the shackles of bloated and heavy traditional down jackets. Bosideng's down jackets are made of selected down from Poland, Hungary, the Czech Republic and China. The controllable and traceable down is certified by Swiss Bluesign® and International RDS standards.