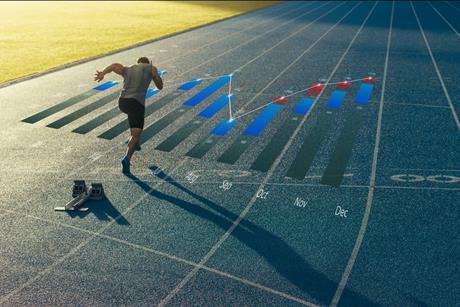 2023-01-09T09:09:00+00:00By Bob McGee
This exclusive analysis shows the development in the market capitalization of the top 87 stock-listed sporting goods companies.
2023-01-04T15:41:00+00:00

Head has promoted Jordi Vives from marketing and promotion manager, his post for the last two years, to international tour manager for pádel. He will now be working with Thomas Bischof, director of pro players. Vives hails from Barcelona but studied in the U.S., where he also established a background ...

2022-12-20T08:11:00+00:00

Jordan Brand has opened Jordan World of Flight Milan, an innovative retail destination to celebrate the legacy and future of basketball culture. World of Flight is "at the forefront of streetwear and basketball culture," Nike explained in a statement. The first store of the kind has a surface of 363 ...

2022-12-13T16:41:00+00:00

Puma has improved its "Climate Change" score from the CDP, the self-described "not-for-profit charity that runs the global disclosure system for investors, companies, cities, states and regions to manage their environmental impacts." The CDP's scores follow the scale used in American public schools, which runs from best to worst, from ...

2022-12-08T13:11:00+00:00

Effective Jan. 1, 2023, Puma executive Maria Valdes will be promoted to chief product officer and a member of the board of management. Currently, Valdes is the GM of Puma's largest business unit, sportstyle. In her new role, she will be responsible for the business units sportstyle, motorsport, team sport, ...

2022-12-07T15:08:00+00:00

Bioniq has acquired Vaha, known for its award-winning interactive fitness mirror.

2022-12-07T14:50:00+00:00

Zwift has announced that Kurt Beidler is to become the company's co-CEO. He will be sharing duties with Eric Min, who will remain chairman of the company. Beidler joins Zwift from Amazon, where he spent 17 years, most recently leading the Amazon Kids+ subscription service.

2022-12-07T00:08:00+00:00

Anta Sports is considering an initial public offering (IPO) of Amer Sports, Bloomberg has reported, drawing its information from people familiar with the matter who asked not to be identified. Amer Sports includes brands like Wilson, Arc'teryx, Salomon and Atomic. The company and its co-investors are currently holding preliminary negotiations ...

2022-11-30T10:22:00+00:00

One of the panel discussions presented by NOW Partners at ISPO Munich addressed the ubiquitous issue of supply chain resilience and the potential solution to be found in nearshoring.

2022-11-30T08:05:00+00:00

CCM Hockey, the Montreal designer, manufacturer, and marketer of hockey equipment, has collaborated with the New York fashion brand Supreme to produce a streetwear-style jersey.

2022-11-22T09:53:00+00:00

Following the global 5-year strategic plan "Winning together" released in February this year, Fila Holdings Corp. is reorganizing key global teams, announcing a change in marketing and design leadership to strengthen the company's organizational capabilities.

2022-11-22T08:59:00+00:00

On Nov. 16 Adidas Originals released its first capsule of blockchain-based virtual wearables – what it will henceforth call Virtual Gear – in the form of NFTs. All 16 of the collection's items are, according to the brand, "designed to be worn by virtual avatars," "accessible through a PFP dressing ...

2022-11-21T05:25:00+00:00

The U.S.-based Authentic Brands Group – owner of over 40 brands, such as Reebok (acquired earlier this year), Nautica, Spyder, Eddie Bauer and Volcom – has introduced a new corporate logo and redesigned its company narrative. A wrap-up of the group's public appearance and company strategies can be found online ...

2022-11-21T05:22:00+00:00

Rip Curl has promoted Pablo Gutiérrez to wholesale manager for Europe. Gutierrez has been with Rip Curl for nearly 30 years, first as a professional surfer and then in such posts as sales rep, country manager for Spain and country manager for Iberia. Iñigo Iraola, another former professional surfer for ...

2022-11-21T05:21:00+00:00

Arena has announced the launch of the Powerskin ST NEXT, a competitive swimsuit made from recycled fabrics. The suit's exclusive design, inspired by the ocean, is meant to celebrate and promote sustainability. The ST NEXT is said to be lighter, faster and greener than its predecessor, the Powerskin ST 2.0. ...

2022-11-21T05:20:00+00:00

Adidas has announced via LinkedIn that the appointment of Andrea Dorigo as senior vice president of global retail will go into effect on Jan. 1, 2023. Dorigo is currently Estée Lauder's global retail and commercial director for North America. Prior to joining Estée Lauder in 2018, he was the CEO ...

2022-11-17T10:32:00+00:00

For the first half of 2022 Munich enjoyed a year-on-year rise of 30.6 percent in revenues, from €24.64 to €32.18 million, according to CMDsport. The Spanish sportswear brand appears to be on track to break its record for annual sales, set last year at €52 million.

2022-11-15T15:17:00+00:00

Nike has developed a blockchain-based platform to serve as a "home" for all of its virtual creations – that is, "interactive digital objects such as virtual shoes or jerseys" for wearing "in digital games and immersive experiences." In other words, NFTs.

2022-11-14T15:44:00+00:00By Jonathan Eidse

Hummel has reached 2B DKK revenue. We sat down with their CEO Allan Vad Nielsen to talk about the success strategy.

2022-11-14T14:25:00+00:00

With some in the Biden Administration hoping to stabilize U.S. relations with China in talks between the country's leaders at the G20 Summit in Bali today, footwear companies are considering a multitude of hard options for the coming year with respect to their operations in the globe's second-largest economy.

2022-11-08T14:07:00+00:00

This exclusive analysis shows the three top sportswear companies' first-half revenue and year-on-year revenue growth in China for 2022.

2022-10-14T06:56:00+01:00

At 2,200 square meters, Adidas' new store in Barcelona is also its largest store in Spain, according to CMDsport. The brand's other Spanish flagship is in Madrid. It operates seven shop-in-shops and 13 outlets as well.

2022-10-11T06:58:00+01:00

Google is releasing, under the Pixel brand, its "first full-featured premium smartwatch." The point of interest for the sports industry is the watch's "deep integration with Fitbit," with "on-device machine learning and deep optimization down to the processor level." In short, Google has combined a wrist-worn, internet-connected computer with an ...

2022-10-04T15:03:00+01:00

Reef, the U.S. brand of surf shoes, apparel and accessories, has opened its first "full price" store in Europe, and specifically in Marbella, Spain, according to CMDsport. Enabling the move is Albion 1879, which handles the brand's distribution in Spain, Portugal and Andorra and operates some 1,000 points of sale ...

2022-09-30T15:35:00+01:00By Bob McGee

Nike, ever bullish on its digital approach, is facing an excess-inventory dilemma, contracting gross margins and persistent currency headwinds as it moves into the holiday season.

2022-09-30T14:40:00+01:00

Adidas has opened a new store in Rome. The 714-square-meter retail space, on two floors, is located at via del Corso 132, a main street in the historical city center and one of Rome's shopping avenues. The store features a number of technological innovations, among them immersive dressing rooms with ...

2022-09-30T08:37:00+01:00By Bob McGee

This is how VF Corp. wants to reach its growth targets for 2027 in challenging times.

2022-09-29T09:16:00+01:00

Under Armour has released its 2021 Sustainability & Impact Report, which outlines a new sustainability framework, goals and targets. The report, aligned with the industry standards of the Global Reporting Initiative (GRI) and Sustainable Accounting Standard Board (SASB), outlines 23 goals and targets in three categories: Products, Home Field, and ...

2022-09-28T07:30:00+01:00

The chief executive of Royal Padel, Rafael Tarradas, has made twin declarations to CMDsport: for one thing, the European pádel market has ground to a halt; for another, sales for his own brand have taken off since September, thanks to customers from outside Spain.

2022-09-27T10:14:00+01:00

Joma is set to exceed its sales for pre-lockdown 2019 by 15 to 20 percent, according to Diffusion Sport. Production director Fortu López told the trade publication at the recent Micam trade show that "the company is meeting expectations. Indeed, we're exceeding our goals, which were to return to our ...

2022-09-26T09:48:00+01:00

This exclusive statistic includes revenue and market share development for the major global sports equipment brands.

2022-09-20T13:34:00+01:00

Lululemon is cramming its early moves in Spain into a short span of time, according to Diffusion Sport. The Canadian brand switched on its Spanish e-commerce site at the end of August, and followed that up in early September with the opening of its first own-store in Spain, on Paseo ...

2022-09-13T09:14:00+01:00

Puma has launched a metaverse website – "an immersive and interactive place to experience the future of the brand" – that will be offering NFTs, "web3 activations," and limited-edition redeemable physical sneakers. Called Black Station, the website will form part of Puma's "Futrograde" show for New York Fashion Week.

2022-09-12T06:47:00+01:00By Bob McGee

This is an exclusive, yearly statistic available only to subscribers of SGI Europe. It includes revenue and market-share development, as well as a regional breakdown, of the major global sports apparel brands.

2022-09-12T05:43:00+01:00

Gymshark has announced it will open its previously announced flagship store on Regent Street in London on Oct. 1. This first-ever brick-and-mortar store for the British brand will span around 1,700 square meters and feature several other functions in addition to the sale of Gymshark products and apparel. For example, ...

2022-09-05T06:43:00+01:00By Bob McGee

The aggregate inventory level for 28 public sporting goods companies, tracked by SGI Europe, rose more than 57 percent year-over-year to more than €31.9 billion at Q2 end and was up by nearly 32 percent from the end of 2021 when it stood at €24.27 billion. Eleven companies had inventory ...

2022-08-12T15:00:00+01:00

During the international equestrian trade show Spoga Horse in Cologne, the German company Uvex Sports (headquartered in Fürth), and the French equestrian apparel brand Horse Pilot, based in Cysoing, signed a distribution agreement for Uvex equestrian equipment for the French market. As of September 2022, the Horse Pilot sales force ...

2022-08-12T07:44:00+01:00

Endeavor Group Holdings has entered into a definitive agreement to sell Diamond Baseball Holdings (DBH), owner of ten Minor League clubs affiliated with six Major League Baseball (MLB) clubs: the Chicago Cubs, New York Yankees, San Jose Giants, San Francisco Giants, Atlanta Braves and Los Angeles Dodgers. The buyer is ...

2022-08-09T10:49:00+01:00

Unearthed, a subsidiary of Greenpeace, has issued a new report, stating that off-cuts from Cambodian textile factories mixed with wood are being used to fuel brick kilns on a large scale. The kilns need to stay fired for several days at a temperature of 650° C to burn the clay ...

2022-08-08T07:12:00+01:00

As planned, New Balance will be opening its first stores on the Iberian Peninsula since January's closing of all 22 of its stores there, Palco23 reports. The first two for Spain will be in Las Rosas Village in Madrid and La Roca Village in Barcelona. Outlets will follow at Rambla ...

2022-08-04T13:08:00+01:00By Bob McGee

This is an exclusive, yearly statistic only available for subscribers of SGI Europe. It includes revenue and market share development of the major global athletic footwear brands including breakdown by region.

2022-08-01T02:25:00+01:00

About You, Yoox Net-A-Porter and Zalando are joining forces on a bespoke learning platform to support their brand partners in setting climate targets aligned with science, intending to reduce their greenhouse gas emissions. The customized program, designed to explain the value and process of climate targets, will be available to ...

2022-07-22T08:40:00+01:00

Northwave, the Italian specialist in cycling and snowboarding footwear and accessories, exceeded its expectations for 2021, posting a 34 percent rise in revenues to €35.6 million. Export sales topped 85 percent, the main foreign markets being Germany, Italy, Spain and France. Management is looking to countries outside Europe for future ...