While it is still lower than in its domestic U.S. market, the European turnover of New Era Cap has more than tripled since Paul Gils began to run the company's business in EMEA and India in 2012, thanks to a variety of initiatives and the sheer fact that its baseball-inspired headwear has become rather fashionable in this part of the world, especially among men in the 14-to-34 age group.
The popularity of its distinctive, adjustable 9FORTY cap with a curved visor has been enjoying a boom since 2015, accompanying the lifestyle sneaker trend. It has been adopted by musicians and other influencers. It still is the company's best-selling style in Europe, although New Era has seen a resurgence lately of flat-visor styles like its iconic 59FIFTY and 9FIFTY.
"While the U.S. market for our products is fan-driven, with a strong team feeling, the European market is more fashion-driven. The hat must go with your sneakers," said the 60-year-old Gils, a Belgian-born executive with extensive experience in the sporting goods industry, in an interview. He previously worked from 1996 to 2004 at Nike. He then spent three years as European general manager for Columbia Sportswear, and four years at the head of Reebok's European operations.
The fashion appeal of New Era's styles has been aided by collaborations with high-end fashion brands such as Helmut Lang and Saint Laurent. About 85 percent of the products sold on New Era's European website have been specifically created for the European market, aside from the official caps for the MLB, the NBA and the NFL. Caps featuring the names of American baseball clubs have come to represent more than half of New Era's annual sales of more than €100 million in Europe, although the company has also signed deals with 20 British and 25 German football clubs. It recently struck new contracts with the England Rugby Union and the English Cricket Board, among other institutions.
New Era's biggest clients are athletic footwear chains such as Foot Locker, Courir or Snipes along with more generalist retailers like JD Sports Fashion or Stadium, and e-tailers like Zalando and Asos. About one-third of the business is supported by a never-out-of-stock program.
To help promote the sell-through at their stores, New Era has made big efforts in visual merchandising to "romance the product," as Gils put it, by creating attractive in-store displays for its products. The brand also has shop-in-shops in large multi-brand stores such as Citadium in Paris or some of the department stores of El Corte Inglés in Spain.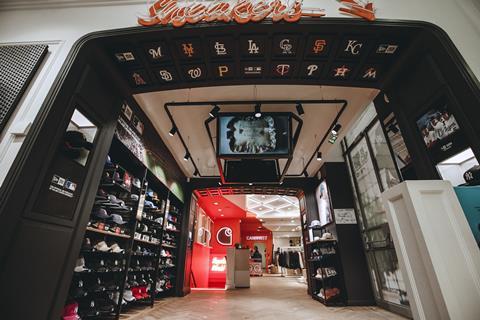 With its focus on retail partners, New Era has chosen to have only a small presence in the direct-to-consumer channel. After closing some mono-brand stores in Europe, it has now only two of them left in Berlin and on London's Carnaby Street. Furthermore, its rather British-oriented website represented only 2.5 percent of its European sales in 2019. The ratio doubled to 5 percent last year, but it was still too low to prevent a temporary decline of 15 percent in overall sales in 2020, after strong increases in previous years, due to the Covid-related lockdowns of many of its wholesale clients.
Gils has decided to give a new impulse to New Era's e-commerce, hiring a young company in Belfast, Made to Engage, to upgrade its European website, adding other languages and local content to make it more relevant in the various countries. The search engine has been optimized and activity on social media has been intensified. With these initiatives, the ratio of direct online sales is expected to increase to between 8 and 10 percent of the total European turnover.
Much of New Era's strong growth in EMEA has come from the expansion of its distribution since Gils took charge at New Era's European office in the U.K., adding new importers all over Europe, the Middle East and Africa including Russia, Eastern Europe, Greece and Turkey and Israel. A new sales office was set up in Barcelona, adding to those that the company already had in France, Germany and Italy. With the build-up of the company's international sale force, Germany has replaced the U.K. as the largest market in Europe, although the U.K. hosts about 100 out of the company's 170 employees across the region. Many initiatives are taken at the local level to maximize efficiency and problem-solving.
The diversification of the product range has been another engine of growth. T-shirts and other apparel items have come to represent nearly 17 percent of the product mix in Europe, higher than the ratio in the U.S. Another 2 percent of the turnover comes from backpacks and other accessories, including face-masks lately. There are no plans to add footwear, Gils stated.
The clothing for the European market was originally made in Portugal, but the sourcing was then shifted to Turkey and Bangladesh. The headwear is mostly made in China, Bangladesh and Vietnam. The goods go through its European distribution center in Eindhoven, and the logistics set-up has not changed because of Brexit, as we reported elsewhere.
New Era has stopped making products for other brands on an OEM basis. According to Gils, the company's major competitors are the major sports brands themselves, which get their caps to be made by others. New Era's only direct competitors are the 47 Brand and Mitchell & Ness, but they have a limited presence in Europe.
New Era was founded in 1920 in Buffalo, New York, by a German immigrant, Ehrhardt Koch, starting with Gatsby-style caps, and it is still owned by members of the Koch family and run by one of his descendants, Chris Koch.
New Era first made its mark in 1934 when it produced the first professional baseball cap for the Cleveland Indians. By 1950, it was the only independent supplier of caps for the big league baseball teams. It made a big step forward by selling MLB on-field caps to sports fans by mail order for the first time in 1980, triggering an unexpected level of success among the general public. The brand became the exclusive supplier of on-field caps for MLB in 1993, the official sideline cap of the NFL in 2012 and the official on-court cap of the NBA in 2016.