German consumers are known to be keen on saving money when there is an economic crisis. Faced with what they call the "Corona crisis," they have saved an estimated €230 billion since March 2020, when the crisis began, but they are said to be eager to spend more again once the current vaccination campaigns bring the crisis to an end. The recovery will most likely start toward the end of the second quarter or during the third quarter of 2021.
As they did in June of last year, after the first set of Covid-related restrictions had been lifted, German consumers showed at the start of April a propensity to spend more for a second consecutive month, according to the Consumption Barometer of the German Retail Federation (HDE). Although non-essential stores, restaurants, hotels, theaters and other public places are still locked down, the related index grew by 1.02 points at the beginning of April, reaching a level of 96.56 points, close to the level of one year ago.
The trend augurs well for the second half of this year, although it's not clear whether consumers will want to buy more sporting goods or spend more on eating out and travel. Sporting goods in general were among the winners in the third quarter of 2020. Recent statistical studies have shown that consumers in certain countries may want to continue to do what they can to stay fit, but it remains uncertain whether they will want to invest in fashion and luxury products as much as or even more than in the past.
Economic experts have become more optimistic
As indicated in the last two quarterly stock market charts that we have produced for the sporting goods sector, financial analysts and investors are predicting a major rebound in our market. Statistics have shown that the sporting goods market has been growing more or less consistently a few percentage points more than the general economy.
The latest projections formulated by the International Monetary Fund (IMF) indicate that the global sporting goods market may go up by close to 10 percent this year, especially if the booming bike category is included.
According to the IMF, the world economy is expected to grow by 6 percent overall in 2021, instead of 5.5 percent as previously anticipated at the end of January, thanks largely to the generous aid packages announced by the U.S. and other governments, including those of the European Union. Growth in GDP could soften slightly next year, remaining at a relatively high rate of 4.4 percent.
In particular, the GDPs of advanced economies are predicted to grow this year by 5.1 percent, more than offsetting the 4.7 percent decline that they suffered in 2020 because of the pandemic. The U.S. should lead the charge, with an increase of 6.4 percent, rebounding from last year's drop of 3.5 percent.
In the Eurozone, a GDP growth of 4.4 percent will be insufficient to compensate for last year's decline of 6.6 percent, but the gap would be closed in 2022 with growth of 3.8 percent. In particular, the IMF is predicting improvements this year of 6.4 percent in Spain, 5.8 percent in France, 4.2 percent in Italy and 3.6 percent in Germany. The economy should grow by 5.3 percent in the U.K. and by 3.3 percent in Japan.
Comparatively, GDP was off last year by 11.0 percent in Spain, 8.2 percent in France, 8.9 percent in Italy and 4.9 percent in Germany. It declined by 9.9 percent in the U.K. and 4.8 percent in Japan.
In the emerging markets, GDP growth of 6.7 percent in 2021 and 5.0 percent in 2022 is expected to eliminate the effect of an overall decline of 2.2 percent that occurred in 2020, when only China had a semblance of growth, going up by 2.3 percent.
Among these emerging economies, India and China are expected to grow this year by 12.5 percent and 8.4 percent, respectively, outperforming their 2020 scores. Russia, Brazil, Mexico and South Africa are seen as rising by 3.8 percent, 3.7 percent, 5.0 percent and 3.1 percent.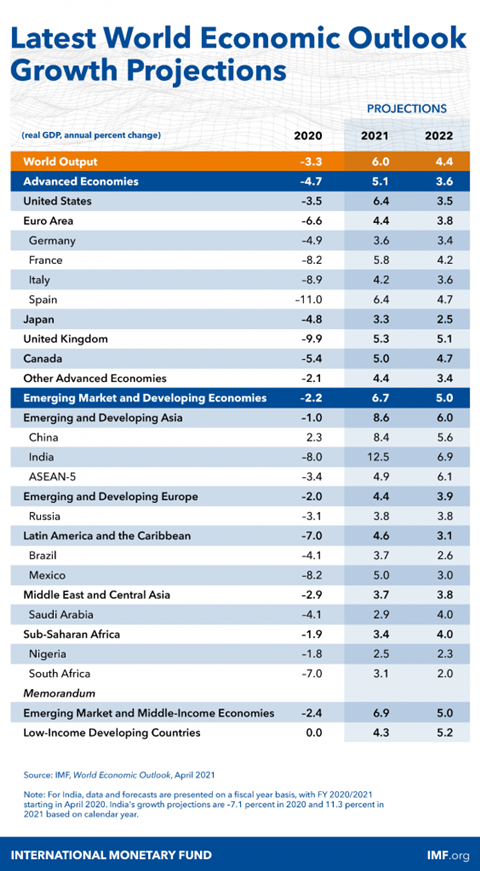 Photo: Jan Philipp Thiele, Unsplash