Nearly 75 percent of global CEOs believe they will witness declining growth during the year ahead, while 39 percent think that their company will no longer be economically viable a decade from now if it continues on its current path, according to the "PwC 26th Annual Global CEO Survey: Winning today's race while running tomorrow's." The question of this year's survey fell under three themes: 1) "The race for the future," reflecting the race that business leaders must run to stay ahead of longer-term threats to their companies, to society and to the planet itself; 2) "Today's tensions," focusing on the day-to-day tensions that leaders are facing as macroeconomic conditions deteriorate; and 3) "A balanced agenda," referring to the balancing act that CEOs must perform to deliver on their dual short-term/long-term imperatives. Below are some highlights from the report.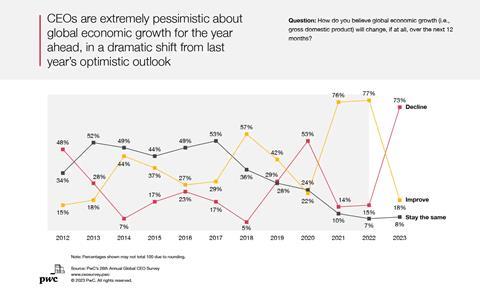 When asked about the forces most likely to impact profitability (either positively or negatively) over the next ten years, 56 percent cited changing customer demand and preferences, followed by changes in regulation (53 percent), labor/skill shortages (52 percent), technology disruptors like artificial intelligence, metaverse, blockchain etc. (49 percent), supply chain disruption (43 percent), transition to new energy sources (37 percent), and the potential for new entrants from adjacent industries (29 percent). CEOs in Japan and China were the most concerned about the long-term viability of their business models, while CEOs in the U.S. emerged as the most optimistic.
Many business leaders are concerned with climate change, with a majority of global CEOs expecting some degree of impact from this issue over the next 12 months, mainly in terms of cost profiles and supply chains. CEOs in China feel particularly exposed, with 65 percent pointing to the potential for impact in their cost profiles, 71 percent in supply chains and 56 percent in physical assets.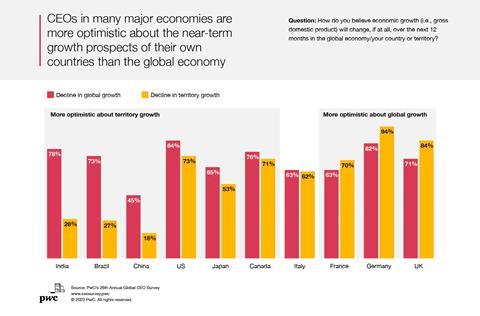 World events have been influencing leaders' perspectives on the global economy itself. The CEOs who say that they are exposed to geopolitical risk are taking action, with nearly half increasing their investments in cybersecurity or data privacy (48 percent), adapting supply chains (46 percent), adjusting their geographic footprint (46 percent) or diversifying product/service offering (41 percent). Cybersecurity is an area of particular concern to larger companies exposed to geopolitical conflict, while smaller ones are focused more on diversifying their product and service offering.
PricewaterhouseCoopers (PwC) surveyed 4,410 CEOs in 105 countries and territories in October and November of 2022. Among the 4,410 CEOs that participated in the survey, 69 percent were from privately-owned organizations. All quantitative interviews were conducted on a confidential basis. PwC also conducted in-depth interviews with CEOs from three global regions – North America, Western Europe and Asia-Pacific – some of which are quoted in the report.
The full 24-page report is available for download from the PwC's website.