Sport 2000 has opened three new stores as part of its Absolute Teamsport concept - two in the Netherlands and one in Austria.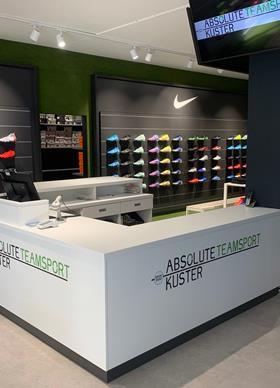 The opening of the tenth Absolute Teamsport store took place in Rotterdam on April 12, 2022. The 330-sqm store is located in Rotterdam's city center and was completely redesigned on existing space. Previously, the store was one of the flagships of the Dutch teamsport specialist concept Soccer Center. The owner is Robert van 't Oor. The Rotterdam store is located in a highly frequented zone with many walk-in customers. The first Dutch Absolute Teamsport store, Absolute Teamsport Haarlem, had already opened in November, owned by Erwin Janssen. Janssen has been a soccer specialist in the greater Amsterdam area for 14 years.
Absolute Teamsport Kuster, with over 220 sqm in Dornbirn, Austria, was opened at the end of February 2022. The owner is Werner Kuster, who has been running the business for 34 years. The store is the second location in Austria. Absolute Teamsport Sportsteam in Ried had already opened in 2020.
Alexander Löbe, head of division teamsport at Absolut Teamsport GmbH/Sport 2000, announced that the number of stores would be "multiplied" before the end of 2022. "In addition to Germany, the Netherlands and Austria, locations in Belgium, Switzerland, Hungary and Bulgaria will be added." Currently, the company runs six stores in Germany and two each in the Netherlands and Austria.