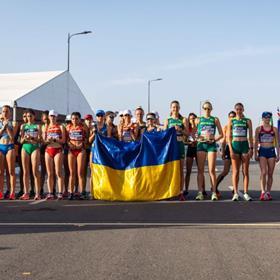 As normal civil life is made impossible in Ukraine due to the Russian invasion, so is regular training for most athletes in the country. The International Olympic Committee (IOC) has set up a solidarity fund to help with funds, logistics, travel, training facilities, accommodation, equipment and kit for athletes. With the efforts of the IOC, the European Olympic Committee and other Olympic movement stakeholders, the fund now totals over $2 million. Coordinated by a task force led by Sergii Bubka, the president of the National Olympic Committee (NOC) of Ukraine, initiatives in various sports federations were realized within the last weeks of the war. Several highlights from the federation's initiatives can be found in an IOC press release, including:
Four Ukrainian table tennis players participated in the WTT star contender match in Doha. The NOC of Slovenia has taken over a coordinating role for Ukrainian refugees to find and create opportunities for training and competition in Slovenia.
In cooperation with the Swiss Federal Office of Sport, the national cycling federation Swiss Cycling has facilitated the arrival of 27 Ukrainian cyclists in Switzerland who are now training at the national high-performance training center in Macolin, Bern. Swiss Cycling has also launched a fundraising platform, BeCycling, to collect donations. The Swiss Ice Hockey Federation and its partners and the Ukrainian Ice Hockey Federation have brought 23 ice hockey players and their relatives to Switzerland.
In coordination with the International Canoe Federation (ICF), World Rowing has helped to relocate the Ukrainian Para rowing and canoe/kayak teams to Paris, France. The teams are being provided with accommodation in Paris and receiving full board at the training center. The provision of equipment was also coordinated upon their arrival. The ICF fund has also contributed to flights for more than 100 athletes attending a training camp in Turkey. The athletes and their coaches are now at training centers throughout Europe, made available by national canoe federations.
The International Biathlon Union (IBU) has partnered with the national federations of Austria, Czech Republic, France, Germany, Italy, Norway, Sweden and Switzerland to provide support to the Ukrainian biathlon community to host training camps for Ukrainian athletes and teams of all categories as soon as they can travel outside the country.
The World Pentathlon Association (UIPM) has provided funding for sports equipment and uniforms to the Ukrainian junior team, consisting of more than 20 athletes. It also supported Ukrainian athletes' travel costs to participate in the UIPM 2022 Pentathlon World Cup in Cairo, Egypt and is working with the main UIPM event organizers to cover the accommodation of the Ukrainian teams in competitions this season.
World Athletics, together with the International Athletics Foundation (IAF) and the members of the Diamond League Association, has launched a Ukraine Fund to support professional athletes affected by the conflict in Ukraine, which is expected to support up to 100 Ukrainian track and field athletes with financial support this year.