The North Face currently offers Renewed products only in the U.S. as an option for consumers who want to buy "like-new" clothing and give it a second life. TNF has announced plans to launch the Renewed recommerce platform in Germany on May 4, 2021 as a pilot program, and then gradually roll it out to other markets.
On this year's Earth Day, as part of a new XPLR Pass loyalty program, XPLR Pass members will be able to send in their slightly used TNF apparel to become part of the Renewed program in exchange for a gift card. Previously, consumers could not send their products directly to the brand's Renewed partner, The Renewal Workshop.
A similar re-purposing program has been carried out by Patagonia for many years at the international level. As reported elsewhere, Lululemon has decided to test one in a couple of states in the U.S.
In its latest press release on sustainability, TNF also announced its intention to launch its first fully circular apparel in the autumn of 2022. As part of a sustainability-focus "vision," which it calls "Exploration Without Compromise," it also pledged to have 100 percent of its apparel face materials being either recycled, or made renewable or regenerative by 2025. To enable environmentally conscious purchasing by its customers, TNF will label its most sustainable products with the "Exploration Without Compromise" seal on thenorthface.com and in its stores, provided that at least 75 percent of their materials are organic, recycled, regenerative or responsibly sourced.
Improving the footprint of sourcing synthetic materials is a particular focus, as material-related emissions for polyester account for 53 percent of TNF's total material-related emissions, while material-related emissions for nylon account for 29 percent. By involving local "green" production partners for renewable raw materials such as wool and cotton for special series like the Cali Wool Collection, TNF has already taken initial steps in recent years to also source the collection's natural fibers more sustainably. It recently announced a new partnership with The Indigo Ag – a regenerative land management project in the U.S. that restores soil health by introducing beneficial agricultural practices to cotton farming. More than half of the company's total carbon footprint is created in the manufacturing of products, so TNF sees this as an opportunity to create the greatest environmental impact for the brand.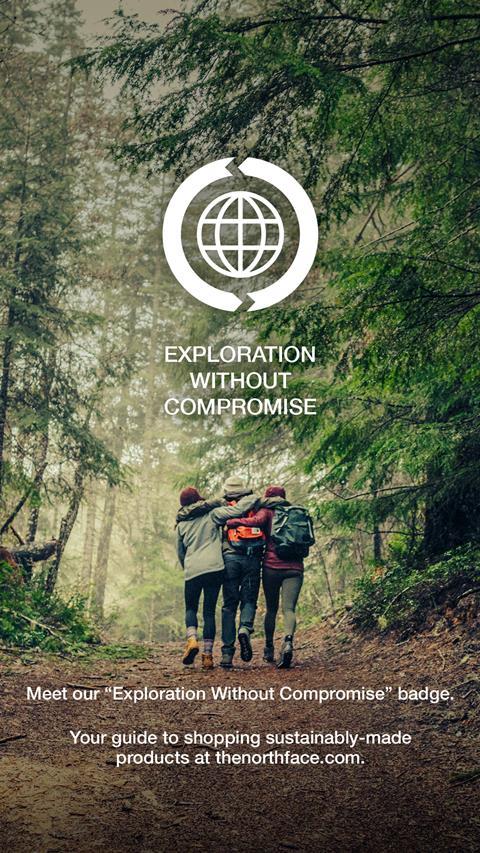 TNF is also taking operations and logistics into consideration. Since 2007, the company has been purchasing carbon credits and Renewable Energy Certificates (RECs) to offset emissions from its own and others' factories. It also offsets greenhouse gas emissions generated by its employees' business travel and commuting, athletes' expeditions and e-commerce deliveries.
The brand's holistic sustainability strategy is designed to achieve the general science-based goals that TNF's parent company, VF Corp., has already set to address climate change. Just recently, another brand owned by VF, Vans, committed to switching to 100 percent sustainable materials for rubber, leather, cotton and polyester by 2030 as well.