Sportmaster, the Danish sporting goods retailer recently acquired by the Russian-based Sportmaster Group, has won two awards in two contests conducted by PriceRunner, a website that normally advises customers on the best price bargains. The retailer came out as Denmark's E-Dealer of the Year in the Sport category as well as Store of the Year across all 18 of the categories examined.
The prizes were awarded on the basis of consumers' post-purchase reviews and of "mystery shopping" done by a professional company as a follow-up at all the nominated stores to test the shopping experience. Consumers indicated the ordering page on Sportmaster's website is clear and gives them several delivery options, including in-store pick-up.
PriceRunner has more than 9,000 stores on its product and price comparison service, and the stores are eligible to be nominated for a prize in any of 18 categories. Prices, environmentally conscious deliveries and delivery times are taken into consideration during the final assessment.
Sportmaster has been investing heavily in e-commerce in recent years. While its total sales declined slightly in 2019 to 992 million Danish kroner (€133m-$158m) from 997 million DK in the previous year, the share of online sales rose from 17.2 percent to 20.3 percent of its total turnover.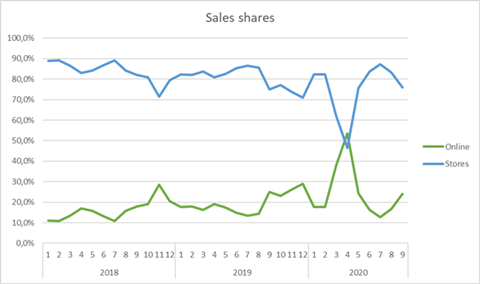 These investments were helpful in softening the negative impact of the coronavirus outbreak in the spring. While the physical stores were still open, the share of online sales reached a peak of 53.6 percent in April. However, as consumers made fewer purchases of sporting goods and other non-essential items anyway, Sportmaster's total revenues for the first nine months were down to about 500 million DK (€67m-$80m) from 685.2 million DK in the year-ago period.