Online marketplaces – An analysis of the top 100 most popular sports products on Amazon and Zalando
The relevance of online marketplaces has increased significantly over the past years. Besides the industry's pioneers, Amazon and eBay, many other companies have jumped on the band- wagon of today's platform economy. Together with the rise of social media, this has also led to the importance of user-generated content (UGC).
E-commerce platforms have transformed the traditional retail industry and pose opportunities and threats for both incumbents and new players. For consumer brands it is vital to learn and play by the new digital rules, e.g. how to best manage products on Amazon.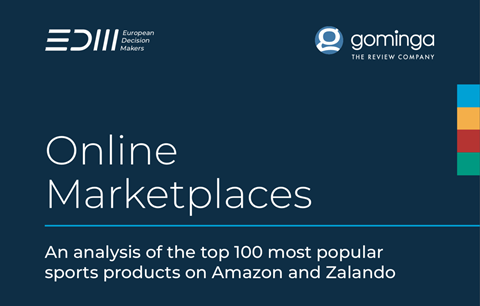 As markets are flooded with cheap, non-branded products, consumers are beginning to rely more on product reviews, which help them determine the best value for their money. Those (often Asian) sellers perfectly understand the Amazon e-commerce system and pose a real threat to traditional brands. Similarly, new direct-2-consumer brands focus on digital marketing and digital sales and have shown great success within short time f rames. Incumbents across all consumer goods industries need to catch up and become quicker in adopting these new marketplace strategies and tactics.
In 2020 we have seen an acceleration of these trends due to the Corona pandemic. According to a recent survey by Territory Influence (Bertels- mann Group) "The Power of Ratings and Reviews" (Aug. 2020), the days of Covid-19 lockdowns and quarantines have caused people to shop online even more and to pay even closer attention to online reviews. Brand manufacturers will need to play an active role in managing reviews for their products if they want to maintain the advantage they have over their competition.
This research paper demonstrates the importance of product reviews. It shows both the significant reach many non-branded manufacturers have despite their lack of traditional branding, and branded manufacturers' remarkable opportunity to improve their products' current market position.
Authors: EDM Publications and Christian Driehaus, Co-Founder gominga eServices GmbH