All players in the textile and outdoor industry are being called upon to drastically reduce their carbon footprint within the next few years. Sympatex shows which adjustments can already be made today to reduce a brand's impact.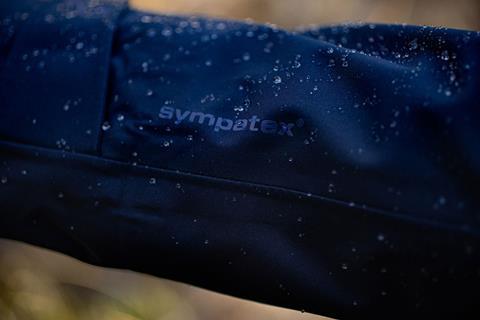 The circular economy is currently the most promising solution to reduce the environmental footprint in the apparel industry, alongside the propagation of more conscious consumption. But a circular economy only works if everyone participates. Implementing it is complex, precisely because players, who have previously operated separately from one another, have to come together.
The membrane manufacturer Sympatex has been working for years on new ideas to reduce the ecological footprint of the textile and outdoor industries. This is about much more than just selling new membranes and adapting to developments. Sympatex is about developing products for the next generation and, in the process, advancing the sustainable transformation of the industry.
The list of future topics is long: Design-to-recycle, digitalization, recyclability via grade purity, designing a fully fiber-to-fiber based portfolio, water and CO2 savings, and the use of bio-based content. In addition, Sympatex initiates and accompanies numerous pilot projects with a great deal of pioneering spirit and is thus committed to more collaboration, education, openness and courage.
With four measures, Sympatex is already reducing its ecological footprint and passing this advantage on to its brand partners.
1. DMIx: Saving resources through digitalization
Digital collaboration throughout the supply chain is the future. It not only creates more speed, control and flexibility, it also helps reduce the environmental impact of the textile industry.
ColorDigital GmbH has developed DMIx (Digital. Meta. Interaction), a forward-looking digital tool for product development in the apparel industry. The DMIx platform offers scientific color management, Digital Twin technology, human avatars and real-time master data solutions that connect to all major design and product lifecycle management (PLM) systems. This not only saves costs and time, but also minimizes the environmental footprint in certain parts of the supply chain by controlling lab-dip processes and mass production, reducing the large number of samples and prototypes traditionally used.
Sympatex began working with DMIx this year. "Especially in the color area, we can work much more precisely with DMIx and thus avoid color deviations and errors that would later lead to unusable material," says Anna Steyer, Colorist & Digital Pioneer at Sympatex.
Brand partners working with Sympatex can also access the DMIx 3D material library and use the digital twins of the laminates for their 3D designs, for example, or try out colors and prints virtually.
2. Design-to-Recycle: Collaboration with YKK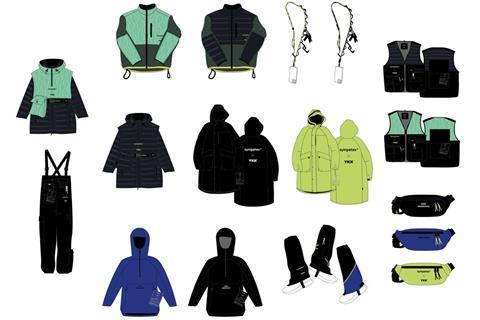 To demonstrate how cool sustainable design can look, the two ingredient brands Sympatex and YKK teamed up for Fall/Winter 2023 and jointly developed a small collection to be presented at trade shows.
Each style combined workwear and streetwear with high-quality construction and workmanship. The central message of the collection is to think new and use circular materials. For example, the new Sympatex products Caura Sherpa, Wanaka Spring and Tokyo are used and combined with circular trims from YKK. These include cord stoppers, click buckles, hooks and eyelets; all of which meet eco-design requirements.
"For recycling to succeed, choosing the right ingredients is hugely important," explains Lisa Polk, Circularity Expert at Sympatex. "The collection is not perfect yet, but we show what is already feasible today."
That the collection is different can already be seen from the label, which is not hidden inside but provocatively emblazoned on the outside.
The collection will be on display for the first time at the Performance Days in Munich.
To complement this, Sympatex has developed an Eco Design Guide and is also involved in the "Accelerating Circularity Europe" project, which was developed to accelerate the textile industry's transition from linear to circular production and, very specifically, to make textile waste usable for new products.
3. Fiber-to-fiber recycling through grade purity
Fiber recycling is still in its infancy. Mixed fibers in particular cannot yet be recycled on a large scale according to the current state of technology. For this reason, more attention must be paid to grade purity as early as the design stage.
In order to obtain pure laminates, Sympatex laminates the polyester membrane with recycled polyester upper and lining materials. This has two advantages: Firstly, the laminates can be returned to the closed textile cycle at the end of their life without any problems; secondly, recycled polyester requires significantly less water during production than new, petrol-based polyester materials.
In figures, this means that if you compare the production of 1 kg of recycled fibers with 1 kg of crude oil-based polyester fibers, you achieve a water saving of around 90 percent. Instead of 60 liters of water, only 3 liters of water are needed for 1 kg of fibers.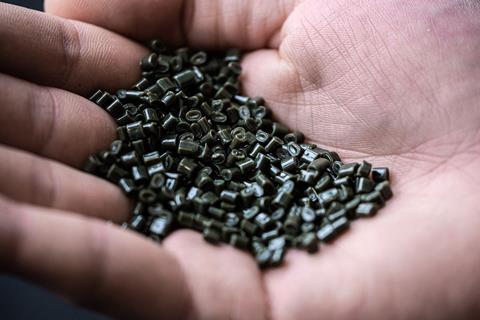 4. Sympatex membrane: Use of bio-based materials
To reduce the ecological footprint, the textile industry must stop the new production of fabrics and materials derived from petroleum. The use of bio-based membranes is an important part of the solution.
For example, Sympatex has developed a membrane that is 25 percent bio-based in origin, resulting in 12 percent less CO2 emissions per kilogram of polymer compared to a purely fossil-based polymer membrane. Suitable feedstocks include sugar cane and sugar beet, corn, wheat, cassava, oil plants such as palm and rapeseed, wood, fiber plants such as cotton, jute, flax and hemp; and all kinds of biogenic by-products, residues and waste, or even marine biomass from macro- and microalgae.
When fossil raw materials are replaced by bio-based raw materials, the chemical structure of the material is not changed. The Sympatex membrane therefore retains its high-performance values in terms of breathability, waterproofness and windproofness, and is fully recyclable at the end of its life cycle.

In these ways, Sympatex supports its partners:
Continuous efforts to reduce the carbon footprint of their products.
Fulfilling an important commitment from the Climate Charter: Reducing CO2 emissions by 30 percent compared to 2015 – and much faster!
Combining high product performance with uncompromising responsibility for future generations.
Optimization of products at all levels, as far as technically possible at present.
Setting a positive example so that ecologically responsible thinking can be established as a matter of course in the textile industry.
Retail Round Table on October 19 in Östersund, Sweden:
"Sustainable transition for sports and outdoor trade"
Sympatex will be running the first edition of the
Retail Roundtable
– an event where Sympatex invites the biggest Swedish Sports/Outdoor retailers and smaller retailers with high sustainability ambitions. The roundtable will address:
Finding ways for cooperation between retailers
Sustainability challenges that brands need help with
Traceability, digital product passports and exchange of sustainability data
EU legislation: Now the bar is being raised sharply.
Circular trade – is it possible and how do we get started?
The Retail Roundtable will be followed up with another (digital) meeting during the winter.
The conference will be held at the same time as the Sustainable Outdoor Professionals conference, but as a closed session with invited retailers only. There are plans to establish this format in other regions as well.
Visit us: You will find us at these trade fairs in 2023: