ISPO Munich continues to develop its concept and is growing again. A central element at this year's trade fair from Nov. 28 to 30 at the Munich Exhibition Centre will be the improved Future Lab, with a large stage and several theme hubs. "In addition to the tried-and-tested exhibition spaces, we want to increase the festival character," says Exhibition Director Lena Haushofer in our exclusive interview.
With over 2,000 exhibitors in 11 halls and more than 50,000 visitors expected, ISPO Munich has grown significantly compared to last year. Lena, are you able to give us the first overview of the entire fair?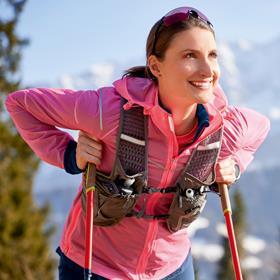 Lena Haushofer: Definitely! We will have a total of eleven halls in November and are expecting 40,000 visitors. One of the most important messages is that we want to increase the festival character, but at the same time we want to maintain the proven exhibition spaces. The trends and innovations of the sports industry in the areas of product, business models and business solutions remain the focus of ISPO Munich.
Our new partnerships with the German Sustainability Award, ChangeNOW, Blue Earth Summit, Laureus Sports Foundation and WHO also open up new opportunities and confirm our ambition to be the international platform for "Bigger than Sporting Goods."
What do you mean by "festival character?"
After being a really popular element last year, we have once again significantly developed our Future Lab in Hall B1 in the form of stages, awards, start-ups, digitization and we've added new formats such as workshops, masterclasses, Innovation Labs, and scenario planning for the industry. There will be a main stage with seating for up to 500 spectators and we will expand our conference program, with well-known speakers whose fame goes far beyond the sports industry.
Other smaller themed stages in the Future Lab will offer the opportunity to be inspired by the industry's innovations.
For example, the GameChanger SportsHub. Here we will facilitate a dialogue between sports brands, tech companies, athletes, influencers, universities, NGOs and sports retailers and try to develop concepts and MVPs in a guided hackathon that supports and develops sports activities, "doing" sports in new and traditional ways, or healthy habits.
We are not interested in presenting eSports per se, but rather, looking at the "exergaming" sports, AI developments, digitization concepts and other trends that lead to real movement and sports.
The 4 areas of the GameChanger SportsHub:
1. LEARN
about the trends and happenings in digital sports live on the Yellow Stage on November 28th. Expert speakers include basketball world champion Dennis Schröder, handball world champion Dominik Klein, outdoor athlete Gela Allmann, Cycling time trial world champion Antonia Niedermeier, Munich's Mayor of Sports Verena Dietl, and many more!

2. EXPERIENCE
how exhibiting brands get people moving with innovations like VR Tennis and Beat Saber. Discover the concepts of GameChanger SportsHub partners like the Felix Neureuther Foundation, Artzt, and Anpfiff ins Leben e.V.

3. COMPETE
in the newest and most innovative digital sports. Experience VAons, Active Sports Arena, iWall and other exergames at the GameChanger SportsHuband in the city center of Munich. Trade fair visitors can compete with participants downtown via a joint leaderboard.

4. CREATE
the future of sports. Join the GameChanger SportsHub hackathons on November 29th to develop the solutions of tomorrow. Revive community sports, digitalize and gamify movement, and enable inclusive active lifestyles with industry experts.
What is behind the exciting-sounding "Zeitgeist concept" in the Future Lab?
Zeitgeist is a 2,000 square meter curated space that we are working on together with designer Stéphane Ashpool.
The sports, fashion and modern outdoor lifestyle industry needs new channels, platforms and business models. So, the Zeitgeist concept at ISPO Munich 2023 will challenge the status quo in the global trade industry. We will create a new, genuine, pinpoint destination; an epicenter for creative and innovative thinkers, sustainability, craftsmanship and artistry.
There will be global collaborations with projects from Paris, London, Japan, and curated brand areas on the topics of Modern Outdoor, Lifestyle, and Sports Fashion. Zeitgeist will also feature lectures, music and art displays, pop-up retail spaces and a networking lounge.
Will the festival character also be reflected in the other halls?
Yes, absolutely. This is a crucial point: In the other halls we will also offer stages and hubs that match their respective themes. For example, A1 will be home to the Sustainability Hub and the new Sports Travel Hub. In the Sustainability Hub, the most exciting projects in the field of sustainability are presented. These will be enriched by the "Material Lab," an exhibition of the most innovative, circular material developments.
The Sustainability Hub at ISPO Munich is growing and delivering new perspectives
A sneak preview of the exciting new elements of the Sustainability Hub at ISPO Munich 2023.
Read more

The Tourism Hub will bring together brands with tourism regions and discuss future developments at the interface of the tourism and sports/lifestyle industries on stage.
In B3, the Team Sports and Health and Fitness hall, there will be a stage with an audience area created using a Quick Space Cube as well as a lounge. Among other things, the kick-off for the new Global Trainer Summit and Running Symposium will take place here. In addition, the trending sports of padel and pickleball can be experienced on several courts. Here, athletes of the respective sports will play against each other.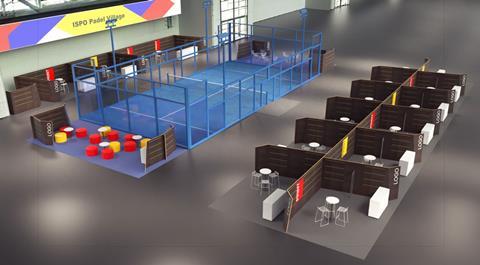 Let's talk about the participating exhibitors. How many registrations do you have?
We are super satisfied with the current registration status which, with currently almost 2,000 participating brands, is significantly higher than last year. And new brands are signing up every day. These include brands such as Schöffel, Rab / Lowe Alpine, Vaude, Ortovox, Patagonia, Fjällraven, Jack Wolfskin, Maloja, Berghaus, Veja, Scott,Oakely/Bliz, and 100% as well as service providers or suppliers like Alibaba, Unzer, Elastic Suite and YKK.
At ISPO Munich 2023, we will occupy 11 exhibition halls with 3 well-filled outdoor halls. We've definitely grown compared to 2022.
Some brands only participated in the previous years' ISPO Munich as visitors. Many said they wanted to gauge the show's return after the pandemic first and then decide whether to take part. Were you able to win any returnees?
Yes, Oberalp with its brands Wild Country, Evolv, LaMunt and Bauerfeind, are new to ISPO Munich. In addition, we were able to win back Blackyak, Leki, L-Fashion Group with Luhta, Icepeak, Rukka, Dachstein and Torstai, Bench and Casco helmets.
As part of Zeitgeist, the brands Sandqvist, Snowpeak, AndWander, Stilride, Elho and Ren & Pln are exhibiting for the first time.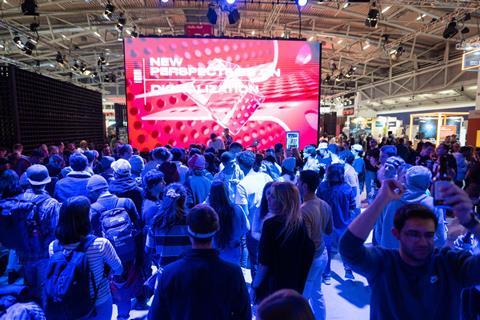 We've talked a lot about the festival feel of ISPO Munich 2023, about new business connections, and about stakeholders who fit into the wider environment of the sporting goods industry. But what about the core clientele of retailers? Why should retailers come to ISPO Munich?
For retailers, ISPO Munich is the best way to get an overview of the trends and product innovations in the industry, especially as 70 percent of the exhibitors are international. ISPO Munich really is the global platform for the sports industry and the place to meet the community, learn about the latest news or make new contacts in a personal way.
Lena, you put all your energy into the preparation of ISPO Munich. What are you looking forward to the most?
I am really looking forward to the energy of ISPO Munich. It's unique and is created by the in-person mixing of the exciting personalities within the sports community, the many product innovations and the inspiring speakers of the conference.