ISPO Munich 2023, from Nov. 28–30, promises a more festival feel, more inspiration and more infotainment this year. Hall B1 will take on a special position, with famous and exciting speakers from the world of sports. The main stage offers seats for 500 listeners. But there are also many theme-oriented discussion hubs in the other halls. Discover exactly what to expect from the eleven halls of this year's ISPO Munich in our overview.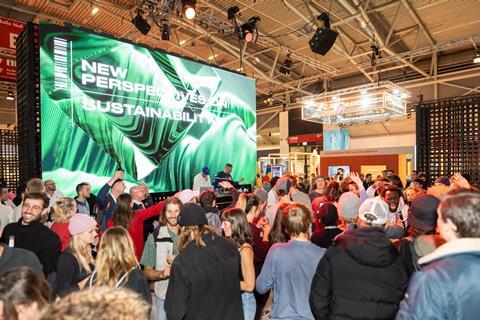 B1: The Future Lab and Mainstage, Digitize Hub, Talent Hub, GameChanger Sports Hub, ISPO Brandnew and ISPO Award Area
Successfully introduced last year, the ISPO Munich team has further developed the concept of Future Lab for 2023. This year's centerpiece will be the Mainstage: a mighty, 24 meters long and ten meters wide stage. Around 500 spectators will be able to watch not only big names and thought leaders from the sporting goods industry speak, but also presentations from athletes and personalities with social reach and relevance.
Next to the Mainstage will be the Award Area, which will exhibit the most innovative products of the year and contenders for the latest round of the ISPO Awards.
And there's still more in hall B1. Several themed hubs make up the rest of the Future Lab: ISPO Brandnew, the Digitize Hub and the GameChanger Sports Hub – part of the Talent Hub – will each offer a stage with seats for an audience of 50–75.
Focus on the GameChanger Sports Hub
3 themed areas: highlighting the latest interactions between sporting goods and technology and with plenty to try out
Area 1: Learning
Experts will share their knowledge on stage and in workshops, covering the impact that developments in AI, XR, gaming and sensor technology have had and will have on sport.
Area 2: Experience
A space for technology and mobile companies to show how wearables, sensors and data transfer capabilities will change the future of sport.
Area 3: Competition
"Exergaming" (technology-driven physical activity) competitions will take place, and visitors will be able to see for themselves the power and influence that gamification rules and industry knowledge will have on the future of sports.
Talent Hub
ISPO focuses also on young talent at the show: During a career tour, (registered) brands can present themselves as potential employers to participating students from various universities. There will be a separate program for trainees from the retail sector and the job wall will move to its new location in the space between halls B1 and B2.
The Talent Hub will be rounded off by a conference with workshops and networking opportunities on the third day of the fair. The aim, as always, is to show trainees and students the many professional opportunities that the sports industry offers.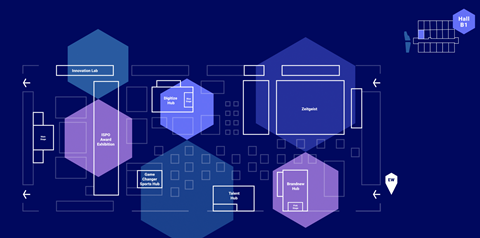 A1: SOG, OSV, Sports Travel Hub, and Sustainability Hub
In hall A1, visitors will find many popular and established outdoor brands such as Picture, Blackyak, Schöffel, Equip Rab, Ortovox, Arva, Colltex, Fritschi and Mountain Equipment. In addition, the French association OSV and the Spanish association AFYDAD have again organized their own village.
New to ISPO Munich 2023 is the Sports Travel Hub, which will focus on topics that link tourism regions with the sports industry; topics such as sports travel trends, sports and travel tech, and the hybridization of retail and sports tourism services. There will also be a "Your Winter. Your Sport" panel, featuring former professional skiers Fritz Dopfer and Viktoria Rebensburg discussing the future of winter sports.
In the Sustainability Hub, Greenroomvoice will be joined by Studio Nima as conceptual partner for a "Material Lab." The Material Lab is an exhibition of innovative and circular materials, which are currently being developed at a very high pace and have already been used in pioneering circular product lines. Exhibitors will have the opportunity to showcase the life cycle and steps of material development; from raw material through intermediary steps to the final material.
A2: Focus on sports outdoor fashion
Hall A2 is home to the Scandinavian Outdoor Group Village and its famed SOG Bar. In hall A2 at ISPO Munich 2023, it's all about Outdoor and Fashion. Well-known brands such as Patagonia, Helly Hansen, Jack Wolfskin and Fjällräven will be exhibiting here.
The hall will also be hosting many returning brands, including Bergans, Kari Traa, LaMunt, Sidas, Moonvalley and Sweet Protection.
A3: Activation Space, Italian Outdoor Group and Shoe Focus
In hall A3, Assosport and the Italian Outdoor Group will be gathering Italian brands around a community networking space in a village of the same name for the first time this November.
Many shoe brands such as Meindl, Lowa, Veja and Skechers will also be gathered here. The multi-sport expert Scott will be joined in hall A3 by Montura, Wild Country and Evolv from the Oberalp Group, Ferrino and Mephisto.
B2: Snowsports, sports fashion and the major retailer associations
Rossignol, Descente, Fritschi, Icepeak, Luhta, Leki, Roeckl, Briko and many other Winter Sports specialists will be represented in hall B2. Intersport and Sport 2000 will also be exhibiting at ISPO Munich 2023.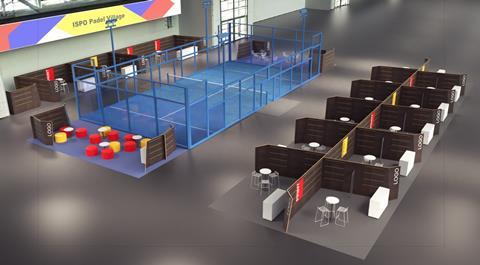 B3: Teamsports, Padel Village, Health & Fitness and a lot of programme in the new Cube
In addition to the Teamsports exhibitors, the Padel Village will be back for the second time in hall B3, with two courts, associations and a great program. In the Health & Fitness area there is also a new Cube for lectures and discussion rounds.
For the first time, the kick-off of the new Global Trainer Summit will take place here, as well as the well-established Running Symposium in cooperation with Runner's World.
C1, C2, C3, C4 and B4: Sourcing, Textile Trends and Manufacturing in three halls
The Sourcing, Textile Trends and Manufacturing exhibitor sections have grown to fill four halls this year. Hall C1 will be home to the Textrends Award exhibition. Sourcing exhibitors are mainly to be found in C1 and C2, while manufacturing suppliers will gather in C3, C4 and B4.
This year ISPO Textrends will celebrate its 10th Anniversary. For this special occasion one additional 10th Anniversary Best Product will be selected from both the Textiles and Apparel products.