The diversification of the racquet sports market is continuing on an international scale, with the game of pickleball now being rated as one of the fastest-growing sports. While tennis participation is stabilizing or dwindling in many countries, less elitist and competitive games like padel tennis and pickleball, which originated in Argentina and the U.S., respectively, are becoming more popular now in Europe.
After reaching about the same level of participation as tennis in Spain, the simpler sport of padel has developed as a simpler alternative in other countries including France and Italy. With the backing of well-known testimonials, it is picking up strongly right now in Sweden, where the number of players has become comparable to the number of golfers.
Meanwhile, the even easier, softer and more recreational sport of pickleball is quickly developing in the U.K. and other parts of Europe as well as in Asia. Described as a sport that combines elements of tennis, table tennis and badminton, pickleball features two or four players who hit a perforated polymer ball with a wooden or composite paddle over a low-hanging net. They play on a court that has about the same size as a badminton court. In some cases, the players borrow an existing tennis court to make out four pickleball courts, marked with different colors, after installing a portable net that costs less than €200.
In the U.S., where it started as a backyard game, pickleball is now played heavily in community centers, public parks and retirement communities. It has become part of the physical education program at many schools. In the U.S., even a casual restaurants and sports bar, Chicken N Pickle, has created an indoor or outdoor pickleball court in various cities as part of its amenities.
It can take less than 20 minutes for a tennis, ping-pong or badminton player to learn the game of pickleball. The game started in the U.S. in 1965, but became mainstream only about ten years ago. It has been continuously growing since then. The number of players went up by an estimated 21.3 percent to 4.2 million in North America last year.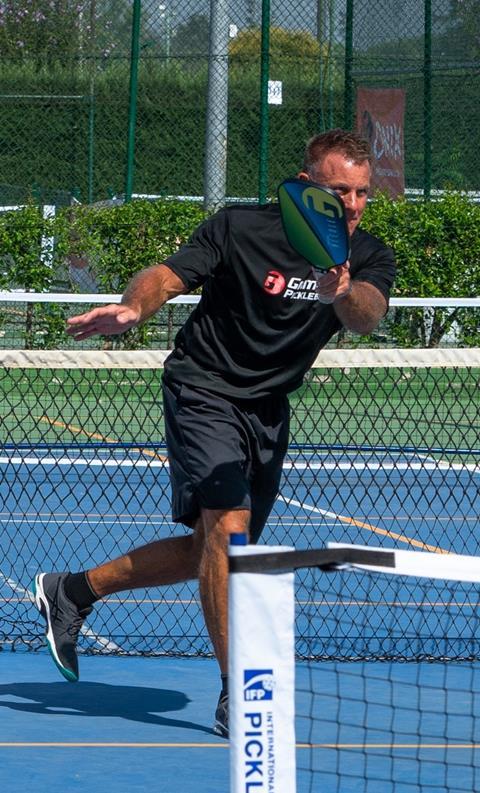 One reason for the quick adoption of pickleball is its accessibility. The beginner version of the paddle used in the game costs less than €50. The high-end version made in the U.S. by Gamma Sports, which claims to be the global leader in the sector, carries a price tag of $150, but according to David Kuklesky, who has been running Gamma's international sales operations for more than 25 years, the "sweetspot" lies around $65 to $70.
Skill levels have increased, leading to more and more tournaments being played everywhere, and the average age of the players has been shifting over the years from 60-65 down to 30-40, says Kuklesky, with some children starting to play from the age of 8.
While most of Gamma's annual revenues come from the sale of stringing machines, pickleball paddles, balls and nets have come to represent more than 20 percent of its turnover. The number of its portable nets sold annually in Europe rose from around 200 in 2019 to 250 last year. Kuklesky, who traveled to 13 countries in 2019 to promote the game among its foreign distributors, says that Gamma's European sales would have risen more than they actually did if there had been no Covid pandemic.
In addition to Gamma, there are other specialized firms that are offering pickleball products, but no other brand has the whole range of pickleball products. Big tennis brands like Babolat, Head, Wilson and Prince have started offering some pickleball products, mainly in the U.S. In Europe, Decathlon also sells them as part of its own racquet sports range, Artengo.
Gamma's biggest retail client in the U.S. is Amazon, but aside from the specialist trade, it is also working now with a big generalist retailer, Dick's Sporting Goods, partly perhaps because it is based like Gamma in Pittsburgh, Pennsylvania. Both of them are among the sponsors of the five-year-old Minto U.S. Open Pickleball Championships, scheduled to take place in Naples, Florida, from Apr. 17 to 24. Its organizers claim that it is the biggest international pickleball tournament in the world. The CBS Sport Network will broadcast the finals.
It's not easy for pickleball players to get products for the game in Europe, where few racquet sports specialists and generalist sports retailers offer them. In the U.K., they have been available since 2016 from an online retailer, the UK Pickleball Shop, which also offers a few sets for shipment to the E.U. and other parts of Europe, including a complete starter pack for doubles at £170 (€197-$238). Many European customers buy products directly from American tennis web stores or from the suppliers' own websites, like for instance www.gamma-europe.com. As Gamma already has a global distribution network in place for its tennis products, it feels that it is well positioned to introduce its pickleball range to new emerging international markets.
Pickleball is growing everywhere because it "is easy to learn, fun to play and your skill can grow over time as you learn the strategy side of the game," says Karen Mitchell, who sits on the boards of Pickleball England and the recently created World Pickleball Federation (WPF). "It is a sport for all ages and all abilities, and it is an easy way for people to exercise without realizing that they are exercising," she adds. It is also a very social game.
Like the slightly older International Federation of Pickleball (IFP), which was officially established in the U.S. in 2015 with the participation of Canada, Spain and India, WPF is working hard to promote the sport internationally, with the ultimate goal of getting pickleball admitted as an Olympic sport.
IFP claims to be the world´s governing body for the sport, and it boasts 40 member countries – 14 of them in Europe – plus a recently formed Asian federation. It has just started to offer individual memberships. Founded by an American player at the end of 2018, the WPF claims to be less U.S.-centric and more international-oriented, but both organizations have a presence in all the continents. WPF has national associations in 24 countries, 12 of them in Europe. Most of the national federations in Europe belong to both the IFP and the WPF to assess the merits of both before they decide with whom they will work in the future.
To promote the sport with the help of Gamma and other suppliers, the WPF organized the first World Pickleball Day on Oct. 10, 2020, inviting the clubs to open up to the public to show how the game works. The sponsors donated products worth a total of $100,000 to help enlist new members in 26 countries. The event is due to be repeated on Oct. 10, 2021. WPS also organized a summit last year to share best practices on how to to set up and expand a national federation.
The first pickleball clubs outside the U.S. were formed ten years ago. The European chapter of WPF, which was formed last June, is working on the project of a European tournament, hoping that it can be held somewhere in September, depending on Covid restrictions. While the U.S. is not yet a member of the organization – Canada joined recently – the WPF is planning to stage the first World Pickleball Games in Austin, Texas in May 2022. Its 70-year-old founder, Seymour Rifkind, is currently cycling 3,000 miles across the U.S. to raise funds for the PIckleball Hall of Frame, which he created.
Another international championship sponsored by IFP, the Bainbridge Cup, will return to the U.S. next month after being played in Italy, Spain and Germany. It is due to be held at a new $6 million facility in Holly Hill, Florida, on Apr. 7-11. More than 700 local, national and international pickleball tournaments were held in 2019 before Covid struck, according to Mitchel, up from 400 in 2017 and 600 in 2018.
For its part, the IFP has been very active lately on the international front. It has set up a training program for certified instructors, an international Ambassador program comprising 130-plus members, and a World Pickleball Grant program. It has established social media platforms. The IFP offers free management support to all member countries through a dedicated PT.com software system that is widely used for tournaments.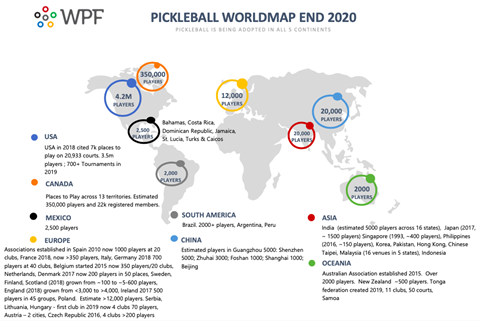 A set of annual "Pickleball World Maps" compiled by Mitchell for the WPF estimates that the number of players in Europe grew from around 10,000 in 2019 to at least 12,000 in 2020. The number of players in China grew last year to around 20,000 from 16,000 in 2019 and remained stable at around 20,000 in the rest of Asia, with India leading the pack.
For Europe, WPF's world map also gives data for the number of clubs and players in Spain, France, Italy, Germany, Belgium, the Netherlands, Denmark, Sweden, Finland, Scotland, England, Ireland and Poland. With more than 1,000 players, Spain leads the ranking. Fewer clubs are operational in Austria, the Czech Republic, Hungary, Serbia and Lithuania. According to Mitchell, participation in pickleball started recently also in Portugal and Norway.
The U.K. is probably the hotspot for pickleball right now in Europe with dedicated associations for England and Wales, Scotland and the two parts of Ireland. Affiliated with WPF as well as IFP, Pickleball England has about 1,500 members, half of them women, and it hopes to qualify for recognition and funding by a very active government agency, Sport England, before the end of this year. Pickleball England was born in 2018, at the same time as Pickleball Scotland and shortly after the all-Ireland association, replacing two federations affiliated with IFP, the UK Pickleball Federation and GB Pickleball, founded in 2016 and 2017, respectively.
Overall, there are around 4,000 players now in England and Wales, 1,000 more than one year ago, and they don't have to be affiliated with a club to participate in a tournament. Pickleball England organized the first English Open tournament in 2019, involving 320 players. Some 800 had registered for the second English Open, which was due to take place in July 2020, but it was cancelled due to Covid-19.
Photos: Gamma Pickleball; Joan Azeka, Unsplash.