Puma's chief sourcing officer Anne-Laure Descours gives an honest look at what's changing and what needs to change in the sports clothing business. She discusses the need for collaboration, Puma's Re:Jersey Project, the environmental challenges in the apparel and shoe world, and explains why she's optimistic in spite of the challenges.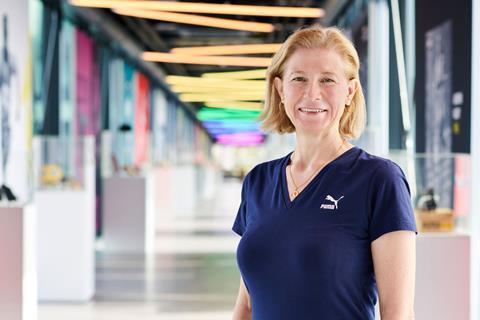 SGI: From a business development perspective, do the principles of circular economy play a role in Puma's long term strategies?
Anne-Laure Descours: I think it plays a role for the entire industry, actually. With what is currently happening with regulations and consumer expectations, particularly in Europe, circularity is becoming a topic that needs to be addressed. It's one of the areas of sustainability where it's expected to make progress, an area of high attention. And not just attention, but of willingness; from the suppliers, from the industry, from the brands, the retailers, and partners, to try to change the way we do things. Circularity has been on the radar for some time, but there is now a real acceleration because technologies are starting to make the ideas feasible.
Could you share an example where Puma has made a change in business strategy?
The breakthrough we had is our Re:Jersey, which uses old football jerseys to make a new product [garment to garment recycling]. The old product need not be specifically a Puma jersey; it can come from any brand as long as it is made with 100% polyester, and it will become a new jersey. That for me has been a fantastic opportunity and has turned into something we know we will be able to scale up. We're looking at achieving probably a few hundred thousand units in 2023. And the objective we have by 2025 — also using Asia as a base for pre-consumer and post-consumer waste collection as well as manufacturing — is to accelerate this. My own dream is to reach at least 5 million jerseys by 2025. We sell roughly 40 million units of 100% polyester per year. So that would be 5 million Re:Jerseys out of 40 million.
The technology, which is based on chemical depolymerization and repolymerization of polyester, has actually existed for over ten years, but it is only now affordable. As a veteran of the industry, I see it as a really big breakthrough and one I never expected to happen during my career.
The next step will be to use this recycled polyester in a mixed composition, cotton polyester. Like many brands, we have started to use recycled cotton coming from pre-consumer waste. This is an area where we want to expand but there are technical limitations.
Is it possible to establish such circular products and still maintain a low price point?
You'd be surprised! Waste utilization for polyester has the potential to become nearly cost neutral compared to virgin polyester. If you ask me, it's a no-brainer. Over the last two or three years, there's been an acceleration of propositions to build new technologies, new solutions to make things better and avoid having such an impact on the environment.
Coming back to a business model, is it possible for a corporation to decouple their business model from unlimited growth? There is a lot of talk about "degrowth," but as a stock company, you're obliged to grow.
I think I would change the question. I would really look at, what can we invent on the manufacturing side to make the product more friendly for the planet? What can we do to make the product better, to get the right technology to avoid impacting the environment, so we can continue to serve and develop the business, and provide a product to the consumer globally? Using waste to make a new product can generate growth without impacting the environment so much. So, it's all about finding the right solutions that preserve the environment and at the same time maintain a certain growth, and a certain economy. To me, that's the angle we're looking at instead of degrowth: Making good growth, sustainable growth, but not really reducing growth.
We've talked about manufacturing. Are you looking at circularity during the design process too?
To be honest, not as such today, but our design team has been having training to design on a circular basis. We've partnered with a circularity expert organization in the Netherlands to make sure that the design community at Puma receive training, so it's an ongoing conversation and journey. A lot of people in the company are under 30, and they have a very high interest in making the product better. Whenever we can, we look at mono material fabric, for instance, and we look at plastic free when we design products. So, no plastic in zippers or trims. It's something that I believe that we're going to see the design community get more and more engaged in. The other thing we've been doing, like many brands, is trying to limit physical samples and work digitally instead, to reduce waste.
What about shoes? Puma has just launched the Re:Suede project.
Yes, Re:Suede is a very different project because it's really an experiment we are doing. We launched with only 500 pairs [of biodegradable versions of Puma's Suede shoe] and now we're going to collect them back and start going through the process of assessing the durability and biodegradable viability. It's been an experiment. The Re:Jersey is different because this is something that is commercially viable. And as I say, it will be scaled up and developed and extended.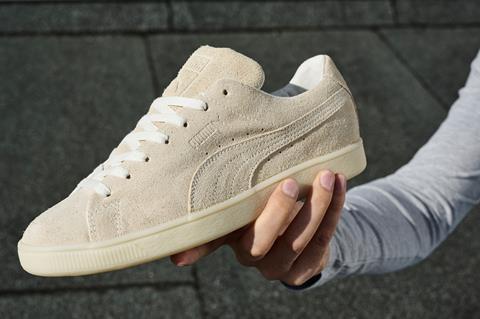 Do you think the Re:Suede model could also be scaled by 2030?
I think 2030 is probably a bit optimistic. But there's been other ways the footwear industry is looking to make the product better. If you look at the uppers today, and textile uppers particularly, we use a lot of recycled components. We also use recycled EVA and recycled rubber. There are a lot of initiatives from a material standpoint in footwear to try to address these environmental concerns as well as a certain level of circularity, reusing waste to put back into shoes.
Footwear is catching up with apparel, which had higher attention and also typically uses less materials. There's a lot of interest from the material suppliers to start addressing the environmental footprint and making the product better. We're not there yet, but a lot of initiatives, a lot of conversations, and a lot of investments are happening as we speak. I'm hopeful that by 2025 footwear will have a better footprint, if I can use that word, in terms of the environment compared to what it has today.
Is repairing a topic for Puma that you want to tackle or extend?
This is not something where I can say with confidence that we have a strong presence. It also has a lot to do with regulations. We are looking at this, and countries are looking too. I expect certain countries will make it more and more compulsory. France would be one, and I know India has done a few pilots to provide this possibility of repairing too. So, here and there we have local activities, but it hasn't been really formulated into a strategy as such yet.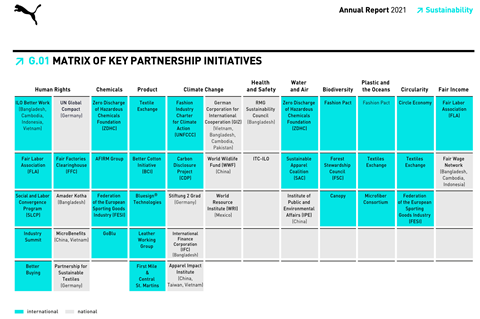 What about the consumers? Is Puma working, for example, in partnership with retailers to encourage the customer to give back used products?
We have take-back schemes in selected stores, for example in the USA, Hong Kong, and Germany. We have also partnered with our football club partners BVB, Man City, and AC Milan, where we encourage the fans to return used clothing, ideally polyester from any brand, as part of our RE:Jersey initiative.
Take-back is one thing where I see a possibility for the industry, for brands, to collaborate together and to build a strong take-back scheme. But I think there is much more work to do and more collaboration needed to operate on that particular subject.
The part where we are really learning right now is talking to the waste collectors, shredding the fabric, talking to the chemical companies, to the yarn suppliers. This is where we're spending more time at the moment, building the process and partnerships to scale up.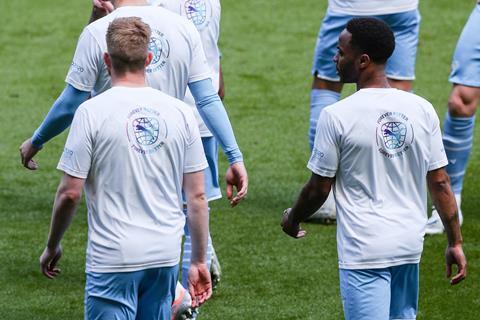 What would be your hope for the level of circularity in Puma by 2030?
We hope that by 2030 our polyester will come from used clothing which is no longer wearable and not from bottles anymore. I think that's manageable. On the cotton side we are also looking at some interesting technology that will help us to recycle. I really hope my friends in footwear will have accelerated the transformation of the footwear industry, providing more solutions for recycling.
One thing that I find absolutely encouraging is the amount of manufacturing and technology investment the suppliers are doing. If you go to Bangladesh today and you see the investment they've made in machinery, it's mind blowing, and the industry is really committed to making it better. That gives me a lot of optimism that we can fix, not everything for sure, but part of what we are doing today. It's getting there.
That's a positive outlook.
You should see the suppliers in Asia! They are incredibly committed, and they are the ones pushing us at times.
You know, one of the biggest suppliers we use is named Crystal Group: a listed company in Hong Kong, an over two billion US dollar company, and one of the majors in the industry. When you see their commitment to reducing greenhouse gas emissions to net zero by 2050, the level of work we do together in the factories that we use, what they provide for us and how we partner on their visions, our vision, a common objective. It's fantastic. You have a level of energy in that part of the world, from Vietnam to China to Bangladesh to Cambodia, where the vendors really want to make it happen.
The next phase for me is not at tier one, because they are on a good path already. Most already invest in renewable energy, have solar panels, and recycle water. The next level for me is talking to the tier twos; the material suppliers. This is where more investment needs to be done, and this is where we are spending time with them to convince, help, and push them, by providing visibility. I see the Taiwanese material suppliers starting to make progress. The mainland Chinese are already a step further. The way they build the factories already takes environmental aspects into consideration. I think it's fascinating to see how people are transforming the way they do things.
There are a lot of very interesting conversations and collaborations in this industry. So, it's going in the right direction. I'm optimistic, to be honest with you. I'm optimistic.