The production of eyewear frames and lenses is largely based on diminutive manufacturing in which the final product is manufactured by eliminating material, thus generating a lot of waste. Circularity needs to be a key element in the industry's efforts toward a more sustainable future. Michael Jardine and Bille Lene Hoegh from Green Optical Planet guide us through the processes and techniques already in place – bio products, chemical, and mechanical recycling – highlighting the possible progress and current limitations.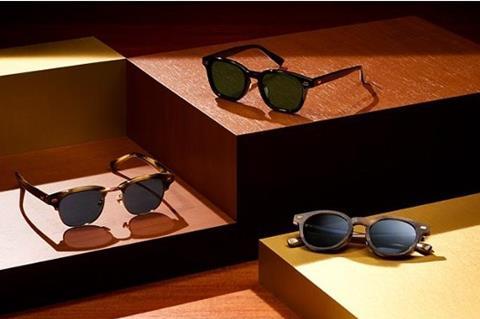 On a scale of 1 to 5, with 5 being the most circular, how would you rate the eyewear industry?
That's a simple question with a complex answer. The eyewear industry has made good momentum towards circular solutions, and more advanced options are becoming available as we speak. At this moment in time the real barriers to circularity are to do with geographical spread and transportation. The next step for the eyewear industry will have to be to address neighboring plants for mechanical and chemical recycling, with small modular solutions, and cross-industry solutions for waste-to-profit and post-consumer recycling.
What are the other main hurdles currently for a circular eyewear industry?
For acetate, the main hurdles are the high footprint of transportation for chemical recycling, and the low performance of mechanical recycling (non-virgin quality).
For metals, the main hurdle is recovering a good grade of recycled metals from the mixed metal alloys used in the industry, and again the high footprint from both transportation and the recovery process itself.
When it comes to demo lens material, the main barriers at this moment are structural, cosmetic and cost. Structurally, there are very few circular options. Cosmetically, recycled options are less transparent, so not preferred by retail. And the recycled materials are expensive. One question here is how to change the need for demo lenses in the retail link, for example by replacing the current clear demo lenses with a different material altogether.
The most preferred circular solution in the industry at this point is bio-products: From plants, to bio acetates and bio nylon alternatives, and back to soil. The main barriers then become performance and scale – of waste sorting and waste handling for biodegradables in the different regions. Currently, waste management for biodegradable bio-polymers does not meet demand, but presumably this will change by 2030, at least in the Americas and the EU.
A new perspective on collaboration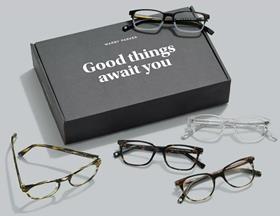 Demo lenses correspond to 5000 tons of plastic waste in the 600 million eyeglass frames produced annually. There is seemingly no way round this, as for shipping, in the store, and when trying on glasses, transparent lenses must be in frames. As of spring 2022, omnichannel retailer Warby Parker has partnered with Eastman to pioneer a demo lens molecular recycling program.
Before entering the new partnership, Warby Parker researched alternative materials along with downstream solutions, all of which have previously fallen short due to quality and this type of plastic being difficult to break down.
Beginning in the summer of 2021, discarded demo lenses from Warby Parker's optical labs in Sloatsburg, New York, and Las Vegas, have now been sent to Eastman's facility in Kingsport, TN, where the glasses are broken down to their molecular level using carbon renewal technology. Once split, the molecules are reused as building blocks for the production of Eastman's Acetate Renew – an acetate supplied exclusively by Eastman that is 60 percent bio-based and 40 percent recycled material.
The process of carbon renewal is used for materials that cannot be recycled mechanically. Its carbon footprint is improved by 20 to 50 percent compared to processes using fossil-based material – and enables the infinite life of resources.
According to the company, Acetate Renew is chemically and physically identical to conventional acetate, without compromising aesthetics, durability or performance. Warby Parker plans to incorporate Acetate Renew into some of its frames later this year. The company claims to be the only eyewear brand lowering the total environmental impact of producing its frames by recycling its demo lenses with Eastman.
What are the most advanced circularity projects/techniques currently used in the eyewear industry?
There are 3 types of circularities happening on scale at this point in the industry: Bio products, chemical recycling, and mechanical recycling.
Bio products include bio-acetates derived from cellulose fibers and citric acids, and bio-nylon alternatives derived from castor oils and other plants. For example, M49 from Mazzuchelli, Natura from Killine and the Rislan range from Arkema. These acetate and nylon alternatives are biodegradable, and the raw material bio-acetates are usually FSC certified, which means that new trees are planted. However, biodegradable plastics require a waste management network that can sort and handle industrial composting, converting the bioplastics back into biomass, water and carbon dioxide. They have the advantage of not containing fossil fuels, but unless there is an end-of-product-life waste management for industrial composting, this circularity is not yet effective.
Chemical recycling, such as pyrolysis, gasification and hydrothermal treatment, are feedstock recycling systems where plastic waste is fed back into one of these processes to extract virgin-quality plastic components. For example, Eastman's Renew. Chemically recycled plastics stop hard-to-recycle plastics such as mixed material eyewear, laminated eyewear and eyewear manufacturing waste from ending up in landfills or being incinerated. They also have the advantage of supplying recycled materials to the value chain, reducing the number of new materials needed. However, chemical recycling plastics still face carbon footprint issues, either through the reclaim process or the manufacturing of new products. Furthermore, chemical recycling requires specialized processes and plants, which have high capital costs.
Mechanical recycling of materials such as non-virgin black acetates or metals has the advantage of being more localized, and can also reduce the need for new raw materials in the value chain. However, the plastics suffer somewhat from performance issues, and the metals recovery process has a high footprint.
A new life for dummy glasses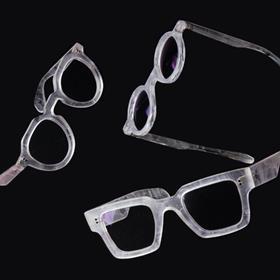 On a much smaller scale than the Warby Parker initiative to recycle demo lenses, London-based designer Yair Neuman is bringing discarded polymethylmethacrylate (PMMA) demo lenses to new life. He processes the lenses into his own material innovation, Delerex, which can be used for eyewear frames.
A collaboration with eyewear retail brand Cubitts resulted in a capsule collection of three Delerex frames named "Fused", inspired by the thirties, when PMMA was invented. The frames are translucent white with iridescent shades of blue, green, and pink, and are made entirely from discarded eyeglass demo lenses, without the use of adhesives or bonding agents. The iridescence results from the anti-glare coating on the demo lenses, which is split during manufacture.
In addition to the eyewear frames made from demo lenses, Neuman (who previously worked for brands like Samsung and LG) also uses the Delerex material from discarded dummy glasses for decorative lamps and furniture.
It is important to remember that it requires a lot of resources to recycle, and the most important step towards circularity is to trade in higher grade products with better longevity, as well as to initiate localized manufacturing and shorter supply chains.
Are there any projects currently in development that could potentially tackle these issues in the mid to long term?
Yes, there are currently several huge chemical recycling projects emerging in both the US and EU. In the US, the focus is on open and closed loops for specific industries like the eyewear industry. In the EU, the projects focus mainly on waste-to-profit circularity, where waste from one industry can be turned to raw materials for another industry. Since chemical recycling will never achieve sustainability as the only option, there are other recapture projects that do not recycle as far back as to source. Also, there are important R&D projects that focus on creating new types of polymers and fibers, which can more easily be recycled.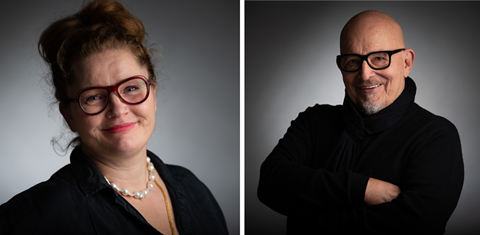 After 40 years in the eyewear industry, in manufacturing, licensing, and distribution, Michael Jardine and Lene Bille Hoegh exited corporate life. Wishing to give back to the industry that has been their home for so many years, they founded Green Optical Planet in early 2019. Green Optical Planet consults for companies that want to begin their green transition in the eyewear industry