Products should be durable and long-lasting, and they must be properly cared for. Only when all factors work together can we reduce the ecological footprint of products. With the GORE-TEX Gear Tour, Gore wants to draw more attention to product care.
The studies are clear: It is not enough to reduce the ecological footprint of products only in the production phase. To really make a difference, products must also last and be used for as long as possible. This means that the focus of the sustainability debate is also shifting to the use phase, and consumers are also being called upon to act responsibly. They should know how to care for their products properly in order to use them for as long as possible.
But how can a manufacturer and an ingredient brand like W. L. Gore influence consumer behavior?
This is exactly what they have been thinking about, and last year not only introduced the new, more sustainable, PFC-free GORE-TEX ePE membrane, but also launched the GORE-TEX Gear Tour, an international consumer campaign about the importance of proper care and maintenance for GORE-TEX products.
We spoke with Marie Mawe, Director Sustainability Engagement, Fabrics Division GORE-TEX Brand and Sander Effring, Account Marketing Specialist at W. L. Gore & Associates GmbH about the importance of proper product care and how Gore is taking this message to consumers.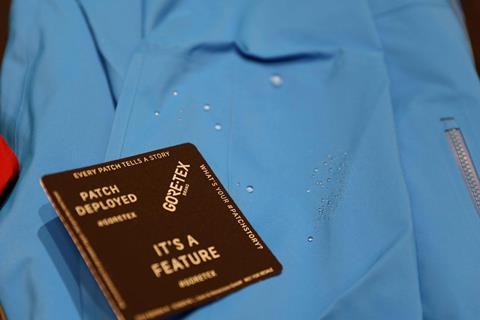 In recent years, sustainability has focused primarily on the production phase – now the focus is shifting more and more to the use phase. Why is it important for you to also look at this phase of the product life cycle?
Marie: This phase is absolutely central. In the past, the focus has been on improving the environmental footprint of products, but if you look at the bigger picture of the industry and clothing in general, our core problem is that we as a society are putting more and more products on the market, while consumers are using them for shorter and shorter periods of time. And that leads to a rapid increase in pollution, waste, and also the overall ecological footprint. So even if you reduce the ecological footprint of a single product, it doesn't matter in the grand scheme of things if we don't stop this trend.
And how can we stop this trend? An important part of that, of course, is making products that last. There's a lot of research on this topic that says the most important factor in reducing the environmental footprint is avoid making a new product or buying a new product.
So the most important thing is to keep a product in use as long as possible, and that's why there has been more focus on this issue. We're not going to reduce pollution in the world, we're not going to improve sustainability, if we don't stop this trend and start taking into account the use phase, the longevity and the durability of products.
That's sounds pretty clear. What is the carbon footprint of a GORE-TEX jacket through all stages? Do you have any figures?
Sander: We've done life cycle assessments for GORE-TEX jackets and found that the total carbon footprint in the production of a garment is the largest. So, production accounts for 65 percent of the carbon footprint, the use phase accounts for about 34 percent, and end-of-life accounts for 1 percent. The most positive effect you can have on global warming is to produce fewer garments and extend the useful life of a product.
I'm sure the care phase is not a new topic for Gore. Are there still many consumers who don't know how to properly care for GORE-TEX products?
Sander: You're right. I've been with Gore for quite a while, and for decades, taking care of GORE-TEX products has been one of the top three questions to our international Consumer Service Hotline, which is centrally operated for Europe and covers 15 languages. Every time we do training for retail sales staff and brand partners, this is a theme. It's never going to go away.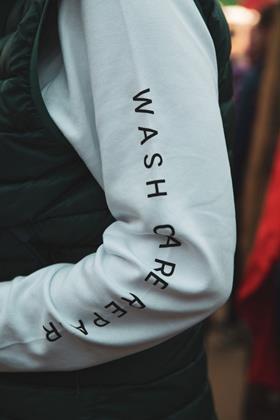 Many consumers still don't know how to properly care for their products, and many are also afraid of doing something wrong because they think washing will destroy functionality. But in reality, the opposite is true.
We recommend people wash their products because by doing so, you wash out the impurities out of the garment, for example, body oils, sunscreens, insect repellents, cosmetics, and salt crystals that are produced during sweating and could contaminate the textile. All these factors can shorten the lifetime of the product. Washing has no negative impact on the membrane or functionality. It refreshes the function and makes it more comfortable to wear. The GORE-TEX membrane is very durable, you can't go wrong, but you have to keep it clean.
Marie: I also think people in the past, our parents and grandparents, used to be really good at caring for their garments and even repaired them. But we as a society have grown richer and we might have lost our attention to this a little bit. I think we have to go back and value our garments again and GORE-TEX is a good example of a very valuable product.
What is Gore doing to gain more influence on consumer behavior?
Sander: We have several touch points to communicate with consumers, of course. On every GORE-TEX website in every market, we have a tab on how to care for our garments. There you can find written instructions in all languages, but these are also supported by videos. We activate these regularly on our social media channels because this remains really relevant for our consumers.
Our brand and retail partners also have special sections on their websites where they inform their customers about the proper care of GORE-TEX products. That also shows that they have identified an interest among consumers. In addition, we still have paper flyers with washing instructions for brick-and-mortar retailers, and we communicate about the importance of care and do live demonstrations at events such as the Arc'teryx Academies in the U.K., Austria and France, where we are a partner. We also use these live demonstrations as content for social media, for example.
How do you support your brands or even retailers in getting the right messages to the consumer?
Sander: And finally, last year we launched the GORE-TEX Gear Tour, of which I am the project manager. The idea was to stop at lighthouse retailers in seven European countries for several days. The goal of the project is to connect with the community and make them aware of the importance of taking care of their GORE-TEX gear. On the one hand, to extend its life and reduce its environmental footprint. But also for comfort reasons, as washing improves the water and dirt repellent properties of the outer fabric. This has nothing to do with waterproofing, but is purely a comfort factor. It is important to promote and inform consumers about this in order to have the best possible experience with your GORE-TEX garments.
Is repair also part of the GORE-TEX Gear Tour?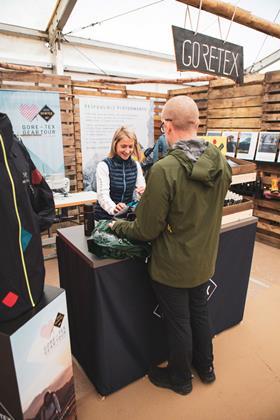 Sander: Of course, during the Gear Tour we provide information on how to care for your products, but repair is also an essential part of it. Throughout Europe, we have 35 officially certified GORE-TEX repair centers. You can find them all on our websites. In Germany, for example, we have 5 of them and even more in other countries. End users can send their garments to these official repair centers. They mainly repair self-inflicted damage, so it has nothing to do with warranty. For example, if you have a tear in your garment, you can send it there and have it repaired for a predetermined amount. These repair centers are not affiliated with Gore, they are all independent and have been trained by us. After the repair is done there, the "guarantee to keep you dry" promise remains valid. That is essential.
Are you also cooperating with these repair centers during the Gear Tour?
Sander: Exactly. During the last Gear Tour, we invited these certified repair partners to come into the stores and do immediate repairs for the people who came along. That was a great success and a very exclusive activity for the participating retailers. The second edition of the Gear Tour started in September with another 30 tour stop days in six countries: This time we will be in the United Kingdom, Norway, Sweden, France, Italy, Germany and Switzerland. The tour will end in March next year.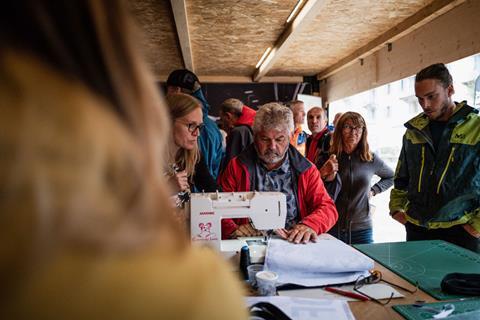 When we talk about the use phase, we are talking about longevity and durability. What is the difference between longevity and durability in terms of a product?
Marie: I think this could really become a scientific paper! We, and most people, would define durability as something that relates to the properties of a product. It's a physical thing. It's the ability to remain functional and relevant in the face of the challenges of normal operation, for example, that's how the Ellen MacArthur Foundation would define it.
Longevity refers more to the actual lifespan of products. So as a manufacturer, you can primarily control the durability of your products. You can make them timeless, even in terms of appearance, you can make them very durable in the sense that they stay functional for a long time, but you can't control whether the person who buys that jacket is going to use it or whether it's just going to hang in the closet and deteriorate over time.
In your experience, how long do people use their GORE-TEX products?
Marie: It's very fascinating how long users hold on to their GORE-TEX jackets. You can still buy very old products on Ebay, so people have had them for a very long time. Even if the products don't look very good anymore, people still use them in their cabin in Sweden or when they're gardening. And I think that's a great sign.
But isn't durability often equated with robustness? In the sports industry, where lightness has always been a very important factor, how can this function be well integrated into your products?
Marie: If you take that definition of remaining functional and relevant, you get comfort. You don't want to get wet, and you want comfort and lightness. If you have a product that's heavy on you, you might not hold onto it as long. So it's an important factor that people feel they can trust a product, but that the product is also comfortable to wear and lightweight. I think if you make something durable, it also has to be comfortable and light. Otherwise, people wouldn't wear it.
This is where innovation, product and material expertise come into play. Because also from a sustainability point of view, it's important to use less material to reduce the environmental footprint, as long as all other functions stay the same. That's exactly what we've achieved with the new GORE-TEX ePE membrane.
Sander: When we have an idea for developing a new product, we need to know the criteria that need to be met for the intended end use. That's the starting point. And lightness can be critical for certain end users who do road running, trail running or cross-country skiing. They wouldn't carry a very heavy backpack; they want something light weight.
At the other extreme, in mountaineering, where you're in contact with rock and ice, the sturdiness and abrasion resistance of the outer material plays the biggest role. And the same goes for the choice of material and the thickness of the yarn. In summary, I would say that lightness is important and desirable, but it is limited to the intended use and the choice of textiles and compositions available.
You have already mentioned the new GORE-TEX ePE membrane, which was launched last fall. How are things going with it? Have you increased production? What has been the feedback from consumers or brands?
Sander: Last year we had a successful, limited, early launch with brands like Adidas, Arc'Teryx, Patagonia, Dakine, Salomon, Roeckl, and Ziener, to name a few. And to be honest, the volumes were modest because production was limited. Most of the brands sold their products in their DTC channels, so you didn't see many in wholesale. This Fall/Winter, we'll see at least more than 90 styles of Apparel, Footwear and Gloves from 26 GORE-TEX partners. So it has really grown.
Additionally, we are now starting to roll out different constructions and technologies. This fall/winter we will be launching two-layer laminates and a limited number of three-layer GORE-TEX performance laminates with three partners: Mammut, Patagonia and Norrona. In Fall/Winter 24, we will introduce three-layer laminates on a broader basis and also with C-KNIT® Backer technology, a technology that makes the laminates really soft. In the final phase, in Fall/Winter 25, we will launch our flagship GORE-TEX Pro laminates, and our high-end users will also be able to use the ePE membrane. Also, our WINDSTOPPER® products will then be available as an ePE membrane. So, we have three years of introducing or changing the engine of our system in different stages.
In terms of consumer feedback, I would say it's a little too early to tell. This Fall/Winter will be the first season where the products will really be widely available and where consumers will see them in stores, either in-store or online.
I think we will be able to judge that after the buying process and after the consumers have collected their experiences. The industry is very excited about it. Many of them, especially those who have been involved in environmental issues, have been very welcoming of it.
Gore has been perceived primarily as a company that has pioneered technology and product innovation. How do you plan to strengthen your perception in the area of social responsibility?
This is a key area that we are focusing on, because as you rightly point out, the GORE-TEX brand is not recognized for its sustainability efforts in the same way that it is for its commitment to performance. This is all despite decades of us delivering multiple sustainability initiatives, so we recognize that we need to communicate this more broadly.
We are doing this more now through our consumer communications, where we specifically call out the features and benefits of products with specific sustainable credentials, whether that be recycled or solution dyed textile components, or as is featured in our current media campaign, the new GORE-TEX products with the ePE membrane.
Another area that we are addressing this perception is through the work that we do with our partners. Through supply chain due diligence, we are driving accountability and transparency to safeguard human rights and social impact. Gore requires business partners to comply with our Supplier Code of Conduct. The Code aligns with international standards that look at ensuring, among other things:
Fair labor
Healthy and safe working environments
No forced child labor
By working closely with our suppliers and industry bodies, we are able to:
Conduct human rights risk assessments
Complete supply chain due diligence surveys
Align and implement our Supplier Code of Conduct
There is still much more to do and we currently have the following initiatives in progress
A roadmap for Human Rights Policy implementation
Risk management through compliance with E.U. and German Supply Chain Act
Training around supply chain due diligence
For more information on CSR progress, Gore has just released the new Enterprise Sustainability Update 2022.