Sports technology company Slinger announced the completion of its acquisition of gameface.ai, a provider of artificial intelligence (AI) for sports. Gameface.ai's platform, which has been recognized by FIFA, World Football Summit Asia, and MIT's Sloan Sports Analytics Conference for the accuracy of its technology, provides both technical (biomechanics) and tactical (strategy) insights through its camera-independent AI video platform, meaning it does not rely on expensive or proprietary hardware for its analysis or data collection. Instead, all of this can be done with any cell phone or camera.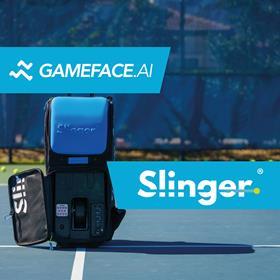 Upon closing, Slinger will acquire 100 percent of the issued and outstanding shares of gameface.ai in exchange for 6,666,667 shares of Slinger's common stock plus additional shares of Slinger's common stock in value up to $3.5 million in contingent (earnout) considerations. The transaction is valued at $24 million.
With the AI market in sports expected to grow nearly 30 percent per year over the next five years and the total sports analytics market expected to reach $5.2 billion by 2025, Slinger says it is positioned to deliver the insights and data desired by today's consumers and demanded by media companies, sports organizations and betting platforms. With the help of gameface.ai's team and technology, Slinger will enhance its existing products and develop and scale new technologies for tennis and other sports. The company says it's also focused on partnering with leading commercial video and data providers in sports.
Slinger initially launched as a brand in the global tennis market with the Slinger Bag Tennis Ball Launcher and accessories. As of spring 2020, the company boasts over $250 million in retail value in international distribution agreements. Led by CEO Mike Ballardie, former Prince CEO and Wilson EMEA racquet sports executive, Slinger is now focused on delivering innovative game improvement technologies and equipment across all ball sports categories and intends to transform traditional global markets with a suite of connected app and SaaS services. According to its own statements, the young company wants to become a leading connected sports company, enhancing the skill and enjoyment levels of players of all ages and abilities.