Big change starts with small steps, and that's exactly why we don't talk about big changes in our Re:Thinking Business Special, but instead, give a lot of space to smaller details. Details that are worth emulating, practical learnings that are worth sharing and experiences that provide added value for the entire industry.
The path to a circular economy, as envisaged by the European Union in its Action Plan 2020, requires an incredible number of small steps from an incredible number of players. What is encouraging about this? There are already many of these small advances worth talking about.
What can you do now? Simply read the texts, take experiences from them, and share them.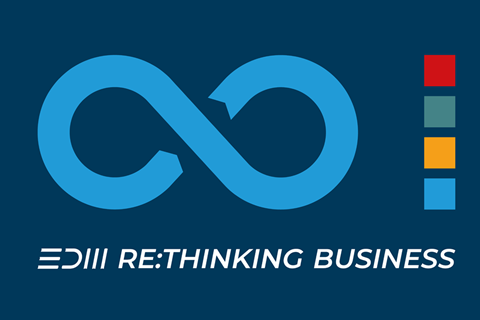 On our Re:Thinking Business landing page, we've structured our content according to the logic of the circular loop: Re:design, Re:pair, Re:sale, Rent, and Re:cycle, plus you'll find texts dedicated to the entire efforts of a brand, such as our closer look at how circular is Patagonia. And then there's a section on financial aspects, with several texts by Amy Rauen, who is a true specialist when it comes to sustainable fashion and financial models in the circular economy. She shows five ways sporting goods brands can begin to incorporate textile-to-textile recycling and how you can reap the financial and, of course, environmental rewards of recycling.
With his focus on Rebike, our author Jo Beckendorff looks at a successful circular business case from the bicycle industry. Begun as an online marketplace for premium e-bikes, Rebike now has two successful business lines: Bicycles on subscription and resale.
For resale in the Apparel industry, author Anne Zeller spoke with one of the pioneers in the resale business, Isa Schindler of 2nd Peak, Switzerland, which solely buys and sells second-hand outdoor products. In addition to discussing the daily challenges, Schindler shares a lot of knowledge about the pricing of secondhand products. And we compare this to the experiences of a larger chain also doing resale like Globetrotter, with insights from its PR Manager Miriam Ersch-Arnolds.
"It's now widely accepted that markets need to move away from their longstanding linear systems and find alternatives to reduce production and waste. Repair is one part of the solution," writes Will Renwick in his piece on the challenges that brands face on their road to repair.
Clearly, repair is one of the 7 ways brands can extend the life of children's clothing. But in our piece by Regina Henkel, it also becomes clear that the path to circularity is paved with many small stepping stones and just how many adjusting screws there are to be turned. And this starts with the design. The developments of our sponsors for this special (in alphabetical order), Gore-Tex, Ortholite, Polartec and Sympatex, show the progress the industry is making in this area.
The smart, circular design also keeps an eye on a product's end-of-life. This thinking is often the basis for facilitating garment-to-garment recycling, but – although there have been some recent recycling breakthroughs – the process and practice are still in their infancy, as Regina Henkel finds out.
End-of-life difficulties are another reason why prolonging the life cycle for every product is crucial and why the rental business, in addition to resale, can be a part of the solution. It's also predicted to be a $700 billion business by 2030. Will Renwick explains why (and how) some big players in the technical sporting goods and outdoor industries have made a move into renting out their products and why others have been reluctant to take the leap.
This is just a small glimpse of our content, and you can find more on the landing page. Best of all, we will be adding new articles every day about the next steps towards making our industry more circular.