Nike is celebrating its 50th birthday this year. Filmmaker Spike Lee directed the anniversary film "Seen It All." The flick stars 40 former and current Nike athletes.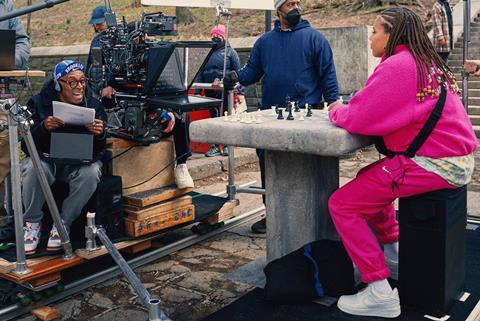 "Seen It All" lasts precisely two minutes and 31 seconds and takes a par-force ride through the history of Nike's greatest athletes, past and present. Spike Lee as "Mars Blackmon" has "Seen It All" in the past: Andre Agassi, Michael Jordan, Kobe Bryant, Steve Prefontaine, Tiger Woods, etc. His counterpart, the young "Zimmie," contrasts all the current Nike athletes and asks, "Do you know them?". She lists Sky Brown, Luka Doncic, Kylian Mbappé and Alex Morgan, among others. What's striking is that the current athletes, in particular, also include many female professionals.
"Seen It All" is simultaneously introduced by Nike as a global brand anthem.
Parallel to the film release, Nike announced the collaboration with Jacquemus Fashion, a new "Runway to Sport." Nike and Jacqeumus want to integrate sports style into everyday life, underline Nike's future vision "50 for her," and express that sport is not only about performance but also style and personal expression. The collection will be available exclusively on jacquemus.com from the end of June 2022 and in Nike stores from summer 2022.
In 1972, Phil Knight and Bill Bowerman had officially founded Nike. To mark the occasion, Nike had published a letter from Knight on the official founding day, May 1.
On May 1, 1972, Phil Knight and Bill Bowerman made Nike official. With a Swoosh and a trunk full of shoes, ready to change the game. 1/2 pic.twitter.com/gagv0x0Z37

— Nike (@Nike) May 1, 2022