For five years, the trial surrounding the collapse of Rana Plaza in Bangladesh was suspended, but now it is to resume on Feb. 16. The eight-story Rana Plaza factory building collapsed on April 24, 2013, killing more than 1,100 people. It housed several textile and other companies, and clothes were made for international fashion companies such as Primark and Benetton. Shortly before the collapse, several workers reportedly refused to enter the building because of safety concerns. According to reports, factory operators forced the workers to their workstations with clubs.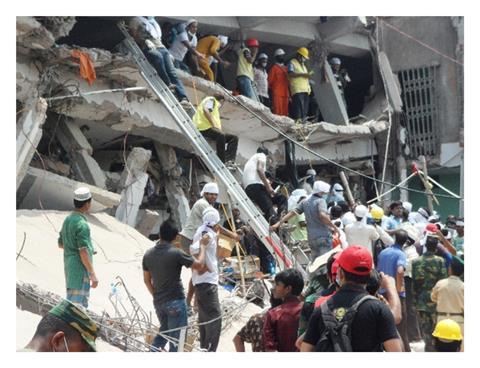 Source: Creative Commons License
Rescue operation at the Rana Plaza collapse site
In 2016, a court brought murder charges against factory executives and owners. Soon after, the trial was put on hold. The reason: several defendants tried to appeal the indictment in court. According to information from dpa and AFP, these trials are now to be conducted separately. A judge has ordered the resumption of the actual trial against the remaining defendants. Chief prosecutor Sheikh Hemayet Hossain told the AFP news agency, "We want to conclude the trial as soon as possible. Too much time has already been wasted."
The Rana Plaza collapse can be seen as a turning point in the textile industry. The disaster brought to light the inhumane working conditions in parts of the industry. Shortly after the disaster, many companies, together with trade unions, signed the Accord on Fire and Building Safety in Bangladesh. The agreement was renewed in August 2021. Many other measures followed in other countries as well. After China, Bangladesh is the country with the largest textile production worldwide. Since the tragedy, the efforts to increase transparency in the supply chain have also increased.