We outline where Nike, Adidas, Puma, Asics, and Skechers shoes are made. As watchdogs urge sportswear companies to publish factory lists, we look at the global distribution of top brands' suppliers.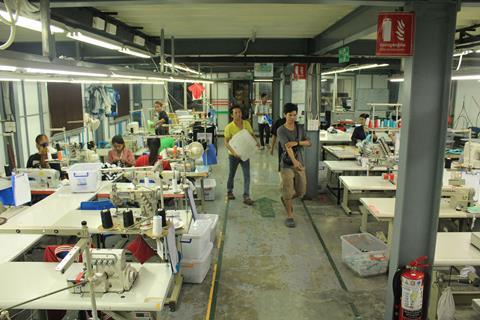 Consumer demand for brand supply chain transparency is growing. And apparel and sportswear making lists of the suppliers they work with publicly available, in a bid to build consumer trust.
Fashion supply chains are long and complex, with brands typically working with thousands of factories across continents. Production processes – including growing, ginning, trading, spinning, curring, sowing, trimming, embroidery and printing – are often carried out across continents. Top supplier locations include Vietnam, Bangladesh and China.
By making details of their suppliers public, brands can enable workers, labor organizations, human rights groups and others to swiftly alert apparel company representatives to labor abuses. This, in turn, facilitates brand collaboration and collective action to stop, prevent and mitigate labor abuses.
In a 2018 Ipsos MORI-Fashion Revolution survey of 5,000 residents in 5 countries, 74% of consumers said it was important for factories to publish the names and locations of the factories in their supply chain.
The supply chain transparency movement gained momentum in 2013, when the Rana Plaza building in Dhaka, Bangladesh, which housed five garment factories, collapsed, killing at least 1,132 people and injuring more than 2,500. Transparency was so poor that, in order to discern which brands worked with the factories, investigators had to retrieve garments from the rubble and check their labels.
In 2016, nine human rights and labor rights organizations, together with global unions, formed a coalition to improve transparency in garment and footwear supply chains. The Transparency Pledge asked companies to publish on their websites a list of the names, addresses, and other details of at least the factories involved in assembling, embellishing, and finishing their goods.
Since the previous year, brands have been ranked on the transparency of their supply chain by the Fashion Transparency Index. The annual report by Fashion Revolution awards brands points according to their social and environmental policy and commitments, governance, supply chain traceability, due diligence and remediation, and how well they spotlight issues such as working conditions and product/material composition.
According to Fashion Revolution, transparency is improving: in 2020, 40 percent of brands surveyed published their Tier 1 factory lists, compared with 12.5 percent in 2016.
Where do sportswear companies produce their products? We assessed five brands.
Adidas was awarded 69 percent in the 2020 Transparency Index, making it one of the five top-performing of the 250 brands surveyed in 2020. Adidas goes beyond publishing details for Tier 1 suppliers: its Global Factory Lists indicate the name and location by country of its primary suppliers, subcontractors, licensees, as well as suppliers where the majority of wet processes overall. According to the brand:
It works with 800 independent factories in 55 countries
Its suppliers are mainly in China (38 percent), Vietnam (20 percent), Taiwan (14 percent)
It favours long-term collaborations: in 2018, 84% of Adidas's strategic suppliers worked with the brand for more than ten years, and 42% had a tenure of more than 20 years
It ensures a living wage for all, claiming to have taken a "direct and systematic approach" to establishing a set of "Workplace Standards" outlining set social and environmental protocols for all suppliers in the chain
The brand won 57 percent in the Transparency Index, placing it in the same range as 14 other brands including Nike, Puma and Patagonia. Puma's Core Factories List indicates both Tier 1 and Tier 2 suppliers, while its interactive map allows for easy location of factories. According to the brand:
80% of its apparel is manufactured by 123 core factories, with 119 of these located in Asia
Its biggest supplier nations are China (33 percent), Vietnam (33 percent) and Bangladesh (12 percent)
Its supply chain partners adhere to a strict Code of Conduct, and its external auditors regularly evaluate suppliers' working, social and environmental conditions
Awarded 50% in last year's Transparency Index, Nike has developed a detailed and highly interactive Manufacturing Map which provides information on individual factories, including the types of products made, demographic statistics about workers at each factory and the factory address and contact information. On the page, users can look up factories by country, and filter data according to categories including product type, facility type and the individual supplier name. The map is updated on a quarterly basis. The brand claims that:
Its finished goods are supplied by 486 factories in 39 countries or regions, covering a total of 1,091,484 workers
Its materials are provided by 57 facilities in 9 countries or regions
Its biggest suppliers are China (36 percent) and Vietnam (also 36 percent)
The brand was awarded 46 percent in the Transparency Index. Its Global Factories List indicates Tier 1 suppliers, which the brand says contributes to 90 percent of global volume of products manufactured annually:
Asics has 163 Tier 1 suppliers in 22 countries
Its biggest supplier nations are China (39 percent), Vietnam (25 percent) and Japan (11 percent)
The brand claims to recruit responsibly, continually assess the social and environmental sustainability performance of its suppliers, and that it is not implicated in reports raising serious concerns about forced labor in Xinjiang
The company was awarded only 8% in the transparency index, and its factories list is not readily available online. According to independent sources, the majority of Skechers' suppliers are based in China and Vietnam.