According to leading economic institutes, the pendulum seems to be swinging in favor of environmentally friendly and circular economy models. This development is already reflected in capital expenditure, whether in start-ups for innovative fibers or vegan leather substitutes, or in the acquisition of booming second-hand platforms. Sustainable fashion and circular design strategist Amy Rauen sheds some light on the topic, with a series on Investing in the Circular Economy. In her first contribution, she gives an overview on the current landscape of investment into the circular economy in textiles and sporting goods.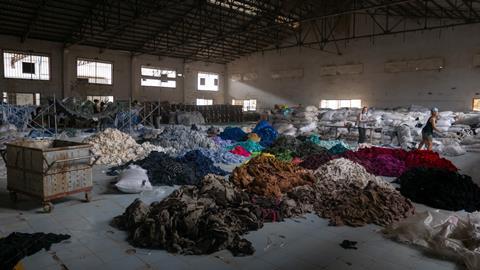 Expectations in the sustainable fashion market are high. Estimates from the Ellen MacArthur Foundation illustrate the potential for sustainable fashion's future: The industry's sustainable and circular business models have the potential to grow from 3.5 percent of the global fashion market to 23 percent by 2030, making them worth up to $700 billion.
Investing in textile recycling
The transition to a circular economy is backed by investment firms and banks, who are investing in new recycling technologies and green bonds to promote this transition and profit from the growing markets. One field of investments is textile recycling, covering both post-industrial and post-consumer textile waste. Most funding goes into the expansion of production capacities — a critical hurdle to overcome after the often-successful research phase.
Recover, which creates recycled cotton fibers and blends for new apparel from post-industrial textile waste, is one example that can draw on a particularly large pot. It currently works with companies such as Revolve, Lands' End, and Primark. Goldman Sachs' recent $100 million investment shows the increasing interest in dealing with a large environmental problem — post-industrial and post-consumer textile waste from the fashion industry — while still creating a way for businesses to produce.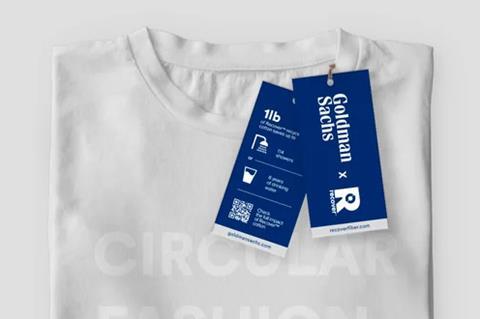 Recycling of post-consumer textile waste represents the other field of investment. Since 2018, 40 deals have taken place to invest in recycling companies. To name a few:
Worn Again $15.5M

Circ/Tyton BioSciences $15.5M

Renewcell $10.6M

Evrnu $25.7M

Infinited Fiber Company $44.6M

Blocktexx $4.5M

Refiberd $575K
Investments in textile-to-textile recycling are already starting to accelerate. According to the Global Fashion Agenda, textile recycling alone could create a $10-20 billion profit pool by 2030.
In October 2019, BlackRock launched a circular economy public equity fund. According to the Ellen MacArthur Foundation: "The fund aims to drive investments in publicly listed companies already contributing to, or benefiting from, the transition to a circular economy. Examples include Adidas, which has committed to 100 percent recycled polyester in its trainers by 2024, and Tomra, which provides 'reverse vending infrastructure' for the recycling industry." This has led to BlackRock's circular economy fund raising almost $1 billion in its first year, from just USD 20 million seed funding in October 2019. As of July 2021, BlackRock's circular economy fund has grown to more than $2 billion assets under management.
Capital markets
Capital markets have helped make fashion circular in recent years. Morgan Stanley, a partner in the Ellen MacArthur Foundation Network, has helped to mobilize investor capital and grow the sustainable and the circular fashion market by facilitating initial public offerings and sustainable bond issuance that help scale innovation. "We've already seen strong consumer and investor interest in companies with circular fashion business models," says Jessica Alsford, Morgan Stanley's chief sustainability officer and chief executive officer of the Institute for Sustainable Investing. "Mobilizing capital is vital to help the industry become more sustainable."
The companies featured below are just a small sample of those working across the fashion value chain to advance solutions that are critical for greening the fashion industry.
Circular business models
New frameworks and models: In 2021, when the company was preparing to go public, Morgan Stanley helped Allbirds to make sustainability an explicit part of its value proposition to investors. The company co-created the Sustainability Principles and Objectives Framework with Business for Social Responsibility to give late-stage private and early-stage public companies a credible and clear mechanism for demonstrating their ESG credentials.
Renting and reselling: Marketplaces that connect buyers and sellers of new or used clothes, shoes and accessories — such as Poshmark and thredUP, whose IPOs Morgan Stanley helped underwrite — are examples of circular fashion business models in action. Estimates predict that the secondhand marketplace will grow 127 percent by 2026, to an estimated $218 billion.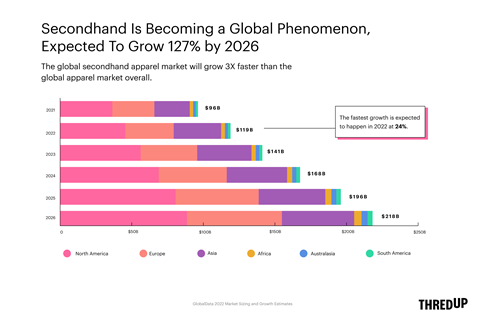 Green Bonds for recycled materials for creating new products: When the VF Corporation, whose brands include The North Face and Timberland, issued its inaugural €500 million green bond in 2020, the funds helped expand the company's sustainability work across its business, including in its operations and supply chain, as well as in natural carbon sinks that help capture and store carbon dioxide from the atmosphere. The company allocated a large portion of proceeds from green bonds to procuring recycled materials for both its products and packaging, including fabric containing at least 50 percent recycled-content nylon and polyester and materials containing at least 80 percent recycled-content paper and corrugate.
"These examples of circular fashion business models are not exhaustive, and it will be important for companies to explore and share a wider range of innovations that deliver both economic and environmental opportunities over time," says Courtney Thompson, executive director of the Global Sustainable Finance group at Morgan Stanley. "By reporting on their sustainability progress, companies can ensure alignment with both consumers and investors seeking to scale sustainable fashion solutions."
The future of investments in circularity
"I think we'll see more brands investing at a later stage, as some of these innovations get to a place where there's less risk around them and already at a scale where it can move into their supply chain. In order to attract additional investment from outside of the apparel industry, which is very necessary for many of these really early-stage companies, there needs to be a signal that the industry itself is interested," says Leslie Harwell, co-founder and general partner Alante Capital.
According to the Boston Consulting Group (BCG) and Fashion for Good report, Financing the Transformation in the Fashion Industry: Unlocking Investment to Scale Innovation, to achieve a steep change in sustainability through innovation by 2030, the fashion industry needs $20 to $30 billion of financing per year. This will need to go to developing and commercializing disruptive solutions and business models that will meet shifting consumer preferences and regulatory pressures.
Collaboration is key
How far the fashion and sporting goods industry has already come can be reviewed in Hey Fashion's report Fashion's Waste Crisis and How to Solve It. The bigger players of the sports and outdoor industry — Puma, Adidas, Nike, Patagonia, or Vaude — as well as smaller companies like Cotopaxi and Houdini are backing up their suppliers' efforts towards sustainability and circularity by embracing circular economy aspects. Collaboration is key, and there has been significant work done by brands to participate in certifications, commitment, initiatives, and pacts.
There are many solutions that will require multiple levers to be pulled simultaneously. Experts are both hopeful, but at the same time realistic. Dr. Ashley Holding, founder of Circuvate (a consultancy company specializing in sustainable materials, recycling and circular product innovation) remains skeptical about the ambitious targets set by brands for textile recycling in 2025 and 2030. In Dr. Holding's opinion, a realistic timeline for scaling textile recycling globally, for example, would be three decades. In the next five years, he would expect a "handful of facilities, which have a larger capacity, but there will still be a very, very tiny fraction of the available waste. And it really won't scratch the surface, in terms of textile waste."
In his opinion, people tend to forget the amount of time it takes to scale a new technology: "Time is an important factor when considering how to scale textile recycling to commercial capacity worldwide."
Read part two of the "Investing in circularity" series, in which Amy Rauen discusses the likely areas to receive investments in the next few years, here.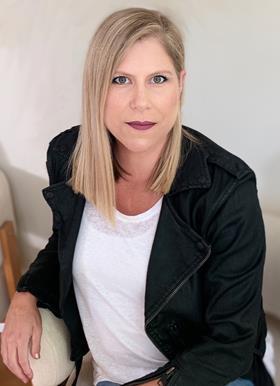 Amy Rauen is a sustainable fashion and circular design strategist who partners with lifestyle brands to help them incorporate innovative technologies, sustainability, and circularity into their organizations. As founder of Circular Intention - a consultancy that is reimagining how we make products - along with being a Circular Economy Pioneer through the Ellen MacArthur Foundation, she advises brands looking to effectively increase their brand equity whilst driving responsible business profits all while focusing on reducing overconsumption and overproduction.