Thought leaders predict huge financial potential to be had from circular markets, but company uptake remains slow. In part three of her series, circular design strategist Amy Rauen tells us why brands shouldn't worry about ROI when it comes to embracing a circular economy model.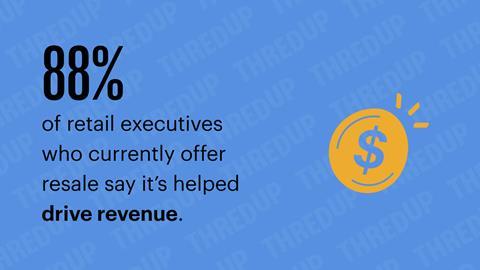 In a recent report by McKinsey, Scaling Textile Recycling in Europe – turning waste into value, it's estimated that to reach their full potential, fiber-to-fiber recycling technologies require, "capital expenditure investments in the range of €6 billion to €7 billion" by 2030. "The entire value chain, including textile collection, sorting, and recycling, requires investments to reach scale." But once scaled it could become a self-standing, profitable industry with a €1.5 billion to €2.2 billion profit pool by 2030.
They go further to say that, "beyond the direct economic benefits, scaling textile recycling unlocks several environmental and social benefits. For example, in our base-case scenario, about 15,000 new jobs could be created and CO2e emissions could be reduced by approximately 4 million tons — equivalent to the cumulative emissions of a country the size of Iceland." McKinsey have quantified these benefits which add up to be approximately "€3.5 billion to €4.5 billion in total annual holistic impact by 2030 — coming to an annual holistic impact return on investment of 55 to 70 percent."
Another study from Fashion for Good, Sorting for Circularity Europe, found that, "a total of 494,000 tons each year — or 74 percent of low value post-consumer textiles, is readily available and suitable for closing the loop in the clothing and textiles sector across six European countries." The report states a potential value increase of "€74 million per year when sorted textiles are reintroduced into the textiles value chain" instead of being downcycled or incinerated.
There is plenty of financial incentive then, to embrace a circular economy.
But however promising the numbers, investing in the circular economy is not yet mainstream. There are significant economic opportunities, but there are still many barriers.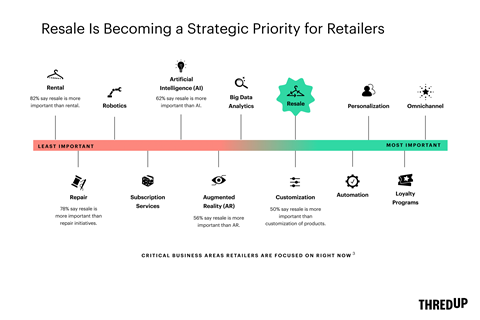 Why are brands hesitating to embrace circularity?
In ThredUp's 2022 Resale Report, they stated that, "88 percent of retail execs who currently offer resale say it's helped drive revenue."
For those who don't offer, for example, resale, typical concerns are stakeholder buy-in, or lack of proven ROI. For many brands, resale doesn't align with their brand narrative; or they believe resale will cannibalize new product sales. However, Thred Up's 2022 report confirmed that these barriers are being lowered each year.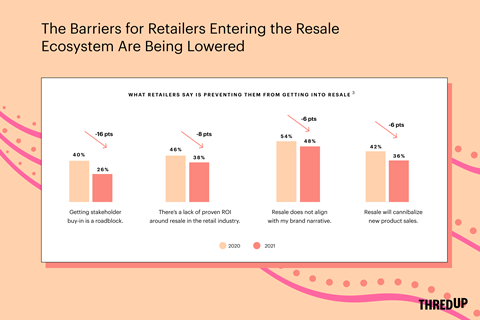 ROI remains one of the main concerns, even as more and more capital is moved into circular business projects and start-ups, many of them working on the raw materials sourcing side.
But for brands who are willing, there are four existing business models that successfully circulate products and materials in the economy and have the potential to decouple revenue streams from production and resource use. According to the Ellen MacArthur Foundation's 2021 Circular Business Models: redefining growth for a thriving fashion industry, combined, they have the possibility to represent a $700 billion opportunity by 2030.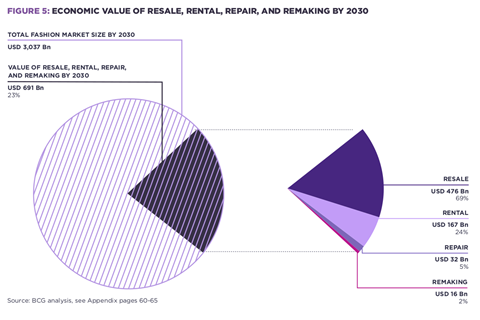 Reuse / Resale represents the biggest opportunities
Resale was a $46 billion market in 2019, according to the Ellen MacArthur Foundation's report. It's projected to reach $476 billion in 2030, making up 69 percent of the market. Re-commerce is profitable across mid-market, premium, and luxury brands, with an operating margin of roughly two times the baseline across each of these markets.
Rental has the most Potential
The same report lists rental as a $15 billion market in 2019. It's projected to reach $167 billion by 2030, making up 24 percent of the total fashion market.
Subscription rental and one off rental have the most potential for positive margins in premium and mid-market brands. Closed loop subscription rental, which focuses on material take-back, is an opportunity for brands to explore the Value Market, according to Fashion for Good and Accenture's report, The Future of Circular Fashion.
Repair unlocks revenue
Repair was a $9 billion market in 2019. It's projected to reach $32 billion, making up 5 percent of the total fashion market by 2030, according to the Ellen MacArthur Foundation's Circular Business Models.
The Renewal Workshop's data assessment shows that 82 percent of products classified as unsellable can be renewed and resold. By recapturing the value of this inventory, a brand can unlock additional revenue and reduce waste management costs.
Remaking - a value driver
Remaking was a $3 billion market in 2019. It's projected by the Ellen MacArthur Foundation to reach $16 billion by 2030, making up 2 percent of the total fashion market.
The Renew circular apparel program — which takes back old clothes and refurbishes, resells, or converts into new products — generated $1.8 million in net benefits for women's clothing brand Eileen Fisher in 2019, according to a report by NYU.
Don't be afraid to try
Although the examples listed here refer to the textile industry, there is no reason why the same models could not also be applied to the wider sporting goods and outdoor industry.
When it comes to choosing from the four suggested circularity models, Fashion for Good's Future of Circular Fashion has the following recommendations for businesses: Prioritize based on market segment; match the business model to the product; get the incentives right; and of course, pilot and experiment. And if the possible financial opportunities and incentives aren't already enough of a motivation for change, VF Corp puts it best: "If we don't do it, someone else will, or already is."
You can read part one of the Investing in Circularity series, which gives an overview of some of the biggest investments in circularity, here. Don't miss the final article, which takes a look at the global picture, and assesses the risks.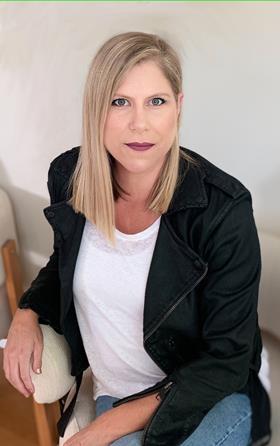 Amy Rauen is a sustainable fashion and circular design strategist who partners with lifestyle brands to help them incorporate innovative technologies, sustainability, and circularity into their organizations. As founder of Circular Intention - a consultancy that is reimagining how we make products - along with being a Circular Economy Pioneer through the Ellen MacArthur Foundation, she advises brands looking to effectively increase their brand equity whilst driving responsible business profits all while focusing on reducing overconsumption and overproduction.