Just a few weeks before the announcement that he will step down as Under Armour CEO, Sporting Goods Intelligence talked to Patrik Frisk. In this exclusive SGI interview, you will find out how he managed a deep transformation of Under Armour and how he approaches leadership. Frisk also reveals how he reshaped the brand and revitalized the business. The interview was also conducted before Under Armour had to temper its planned growth for 2023.
Patrik Frisk has worked for numerous sports and outdoor companies in his career. Among others, he was responsible for The North Face, Timberland, JanSport, Lucy Activewear and Smartwool at VF Corporation. He joined Under Armour as COO in 2017 and took over the CEO position from founder Kevin Plank in 2020. Under Armour had revenue of $5,27 billion in 2019.
–> To learn more about his departure from UA, read here.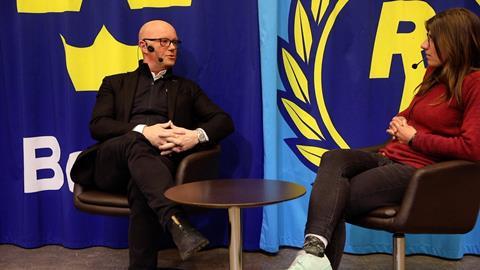 SGI: You have had a lot of leadership roles. Has this experience helped you to lead in times of uncertainty like now?
Patrik Frisk It was an interesting moment to become CEO. I became Under Armour's CEO in January 2020, and three months later, we had a worldwide pandemic. Two months after that, we had great social unrest. Now we have a war. One of the things that we learned very quickly at Under Armour was how important communication is when things get difficult and you have a lot of people who depend on the decisions you make as a leader.
Ensuring that our entire company understood the decisions we were going to make as a leadership team through this very difficult time has been incredibly important. For us, it was very much a case of making sure that our teammates were, first and foremost, safe. Secondarily, we had to ensure that the company and our finances were in order. And number three for us was around operations: The way you do things and the sequencing of things are very important.
How did you align the leadership team in such a short time? Under Armour was in trouble, then the Covid Crisis came and then you had to align the leadership team.
Diversity is incredibly important in leadership teams. All the way from 2017 until this moment in time in 2020, we continued to make a lot of effort to make sure that we had diversity in our team – in terms of experience, gender and race. A diverse team certainly helped us to lead through a very adverse time.
You had a brilliant fiscal year in 2021. Would you say these transformations were the main factor, or were there some more factors that led to these results?
I think our ability to continue to transform the company during COVID was certainly incredibly important. When we came into COVID, we said, let's take this moment in time as an opportunity to do more to make sure that we really are set up for an ability to execute better once we get through this pandemic, which is exactly what happened. So, yes, I do think that the preparation was incredibly important for the execution.
–>Read here about the challenging forecast for 2023
To go a bit deeper, what were the main factors of this preparation?
Leadership, in terms of the quality of the leadership team. But really, it was around more than that. It was about how we thought about everything at Under Armour. What is the purpose of the company? Why do we exist as a company? Our purpose as a company is to empower those who strive for more. Everyone at Under Armour wakes up every morning and understands why we're here.
Number two was understanding the vision of what we do, which is providing performance solutions you never knew you needed, and once you have, you can't imagine living without them. That goes back to the very first T-shirt that Kevin (Plank) made, which made you feel the superpower of Under Armour. And if we think about those two things and then add the mission of Under Armour, which is "Under Armour, makes you better," you have the reason why we wake up and go to work with passion every day. You start with that, and you layer on what I think is incredibly important for any company: the foundation of how you actually act and make decisions, which is your values. At Under Armour, we have five very strong values – Love Athletes, Celebrate the Wins, Stand for Equality, Act Sustainably, and Fight on Together. They help us manage through difficult times, not just in terms of the pandemic but also in terms of some of the social unrest we've seen from an American perspective. There was so much that happened during 2020. And one of the values we really leaned into was Stand for Equality. It was very important to do that in a time that was so dramatic and show the entire organization how important those values are.
Under Armour "is about performance"
To transform means also to leave behind. What did you have to leave behind? And how hard was it to explain this to the team?
When you make strategic decisions, it's all about choice. We decided, for example, to part ways with about two and a half thousand retailers in the US because we felt that we were not being differentiated enough in those stores.
Did you evolve as a brand, as well?
For us, it's all about performance. When I talk to investors, the dilemma that I have is that they want to bifurcate performance from style and trend. I think performance is beautiful. And I think what Under Armour makes is beautiful performance gear that helps to make you better. It is up to them how the consumer ultimately pulls that product that we make into different wearing occasions. But we always start with the intent that it's going to make you better.
Performance is only possible when you have access to training facilities, for instance. Under Armour made a huge commitment around "access to sport." Could you tell us a bit more about that?
Something that makes us mad at Under Armour is the fact that there are so many barriers to the opportunity for people to participate in sports. If you look around the world, there are so many kids that struggle with access to sports. It could be many different things – it could be access to facilities, socio-economic issues, race, gender or more. And one of the commitments that we've made has been in the last three or four months to really make this part of our purpose activation. So when we think about how we can help, we need to activate and really enable access to sport. We think of this in terms of three different focus areas – pathways, people and performance. These focus areas will be looked at globally, not just in North America.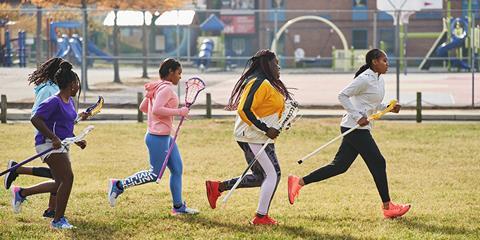 When it comes to corporate responsibility – of course, no company can hide from the issue of climate change any longer. What's your strategy when it comes to sustainability?
Within sustainability, we are focused on three main areas:
• First, from a materials perspective, we are working to redefine yarns to include fabrics that have improved stretch, dry faster, perform better, and, most importantly, are 100% recyclable.
• Second, from a chemistry standpoint, we're leveraging solutions and high-efficiency dying processes that yield improved colors while reducing water usage and improving wastewater quality.
• And finally, from a process viewpoint, as we continue to utilize even more recycled material in our manufacturing methods, we are working hard to establish a circularity model to ensure we're leaving our home field cleaner and less depleted than before. More will come on this when we release our 2022 Sustainability report, expected this fall.
One of the things that I'm very excited about is that you will see Under Armour take a very prominent place in the world of sports to pull this industry together. Because at the end of the day, what we do won't matter much if we're not together as an industry in this area.
Should sustainability be a matter for the CEO?
Absolutely. 'Act sustainably' is one of our five core values. For example, we're building a new headquarters in Baltimore right now. That is going to be a magnificent place for several different reasons. One is that it's going to host a top research facility for human performance. It will also be one of the region's most environmentally sensitive and sustainable buildings, achieving a net-zero operation goal by significantly reducing embodied and operational carbon. We begin at home to ensure that we're doing our part, but we think sustainability must be part of the entire industry. We would be working across the industry in terms of sports in terms of outdoor but also reaching across to our partners in the sportswear market and luxury world. It's a complete overhaul that needs to happen when we all take our responsibility together, and we're looking forward to being a leader there.
Let's keep an eye on Under Armour's future. You said the Baltimore campus would host a top research institute on human performance. Could you tell us a bit more about it?
Under Armour does a lot of research for our products. We also seek to help our athletes holistically, on and off the field. We're constantly researching and looking for advancements in areas like sleep, nutrition, recovery, mindset, and more. We know that the greatest leaps come from helping athletes learn high-performance habits or daily rituals that they can put in place that help them become the best they can be.
But we're a journey brand. We're not necessarily your brand for the moment of glory, as much as we're part of that journey that you have as an individual or team on the path to glory. Under Armour is that brand that is with you as a consumer, as an athlete, as what we call a focused performer, on the journey when you plan your goals when you go through your struggles and eventually reach those results. We research that entire journey, and we think about it through a lens of train, compete and recover.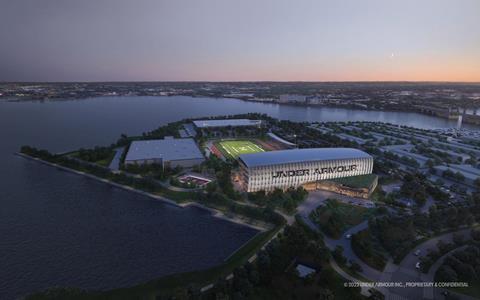 "We are a growth company"
What does that mean for Under Armour in general?
Before joining Under Armour as president and COO in 2017, the company had experienced a 26-quarter streak of revenue being up more than 20%. When you get to that point in a company's life, you need to pause to reset and organize yourself. You need to review your vision and make sure you have your mission and values in place; you need to institutionalize it; it can't be about one person. Unless you put that foundation in place – we call it our house – it's going to be really hard to scale your business over time. We also came into this business pretty late. I mean, we're a kid; we came in in 96. Other brands have a 50-year head start on us. We've got to make sure that what we do is sustainable. We've got to make sure that we're strong as a brand, as an organization, that we have the right processes in place and the right people in place to sustain what we're doing and continue to grow because ultimately, we're a growth company.
As our core readership is decision-makers and senior leaders: Is there an insight you'd like to share with them especially?
First of all, we are in the best industry in the world. Ensuring that you understand what your passion is and where your passion lies is important. And I think that's probably what's helped me the most. I'm passionate about what I do, and that makes my successes bigger, but it also helps in the valleys because they don't get as deep because I have an easier time motivating myself. But then I think consistency is important. For a brand, clarity of brand is essential. And the difficult thing about brands is – you've got to make choices. You've got to make more choices of what not to do than choices of what to do. That's hard and requires discipline. And for me, part of that has come through experience. I lived in 12 countries, and I've worked in 11 with more than 15 brands at this point in my career. I've always tried to make sure that I've understood failure and success and how to build on what I've gained in terms of knowledge. I would recommend that if you want to succeed and move on, that's what you need to do.
Patrik Frisk, thank you very much for your time."