One undeniable truth: The longer a product is in use, the smaller its ecological footprint. In an ideal circular world, consumers as well as companies would strive to extend the life of a product as long as possible. Since most of us are not in a position to repair our waterproof hardshell jacket, tent, or hiking boots ourselves, the onus is on brands and retailers. Rules and regulations at EU level for the right to repair are underway, and these will affect our industries. So what is the current status and what are the challenges?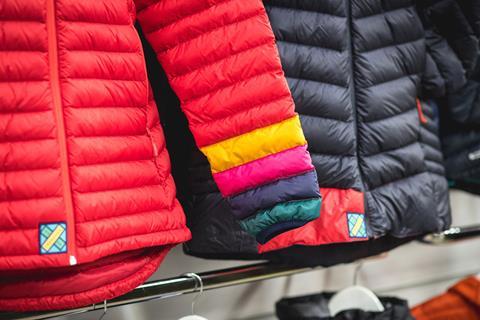 Resisting the wear and tear
The facts: A central part of the EU Green Deal is the Sustainable Product Initiative (SPI) that sets the framework for the consumer's "right to repair" and ensures repair-friendly product design. The EU Commission plans to adapt the Sale of Goods Directive with the Right to Repair Initiative, and to anchor the "right to repair" more firmly in it. At the heart of the SPI is the draft Ecodesign Regulation, which is intended to replace the Ecodesign Directive and extend its scope to almost all products.
The draft Ecodesign Regulation provides for a comprehensive approach to resource protection requirements for products and incorporates the life cycle of the product. It will likely incorporate product passports and repairability labels. The intention is to create a new legal framework to set higher requirements for the sustainability of products.
In addition to EU-wide plans for legal frameworks, local governments are also striving for stricter rules: The German Ministry for Consumer Protection has already announced its intention to introduce its own local guidelines for Germany if the EU Commission's proposals are not far-reaching enough.
As such, market participants in the sporting goods industry would do well to actively prepare for forthcoming guidelines. Retailers will also be increasingly involved in the product take-back process. When the regulations come into effect, brands will need to set up better return possibilities and repair workshops, both locally and centralized (with possibly bigger storage and spare parts warehouses as well as more workforce), and set up the repair knowledge and infrastructure for both.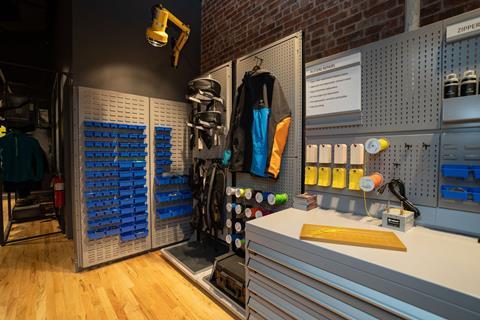 Training in textile product development and craftsmanship needed
The stakes are not only financial. It all begins with the appropriately trained craftsmen who carry out professional repairs. Unlike workers in bulk production, who are often trained to perform only a few steps, these workers must be able to find and implement individual solutions for each individual repair case. Finding those people in high-wage countries such as Germany, Norway, or France is particularly difficult. But in the outdoor industry in particular, great efforts are being made to progress with repair and maintenance services.
Just a few months ago, the Norwegian outdoor brand Bergans made headlines with its local initiative to visit design schools and lobby the government to promote more training in textile product development and craftsmanship. The few brands who still run production at their homebase are comparably lucky, as they can train and educate their own employees in-house.
The pronounced awareness of the problem in the outdoor community supports the efforts of the companies to implement repair options and has the added positive side effect of being a very good marketing tool. Canadian brand Arc'teryx, the German companies Vaude and Deuter, and Exped from Switzerland not only offer extensive repair services and tutorials for self-repair for many of their products they also use these intensively as marketing tools on social media, which brings extra benefits for the companies' image.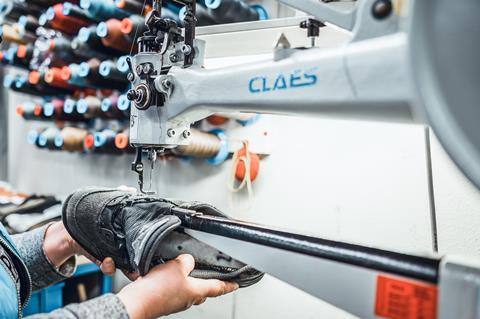 Footwear industry is benefitting from expertise
Just like technical performance garments, modern shoes cannot be easily repaired at home by everyone. Many higher-priced brands in the footwear industry — especially outdoor and climbing brands — are benefitting from their decades of expertise at offering repair services on a large scale. At the German manufacturer Lowa, 46,766 repairs and maintenance products were sent to the company in 2021 alone; some direct via the website service, some coming in from retailers. That is a lot to deal with.
In this industry, service capacity is directly attached to the recruitment of skilled staff, which is an issue. Arthur Kudelka, Lowa head of service, reports that it takes a full year of training for a newly hired worker to be capable of all the steps needed for the re-sole of a shoe, even if they bring with them shoe making knowledge. "Making a shoe is a totally different story from repairing a used shoe", he says. Once an employee is trained and working, Lowa tries to hold on to him or her as long as possible, "until retirement, ideally," Kudelka says.
In addition to creating jobs, there is another positive aspect to Lowa's repair services: They create knowledge in the company and brand loyalty at customer level. There are 21 employees running the Lowa repair center, which is an expense for the company, though not a financial burden. "We don't make any money with the repair center, but we don't lose any either," says Arthur Kudelka. "And we benefit from the feedback that goes into product development. Repairability is deeply rooted in the Lowa DNA."
He also doesn't see involvement in the returns/repair process as a malus for retailers. On the contrary: Every person entering the store is a potential buying customer. And, according to Kudelka, the repairability of the brand's shoes is used as a strong USP in the shops and is well received.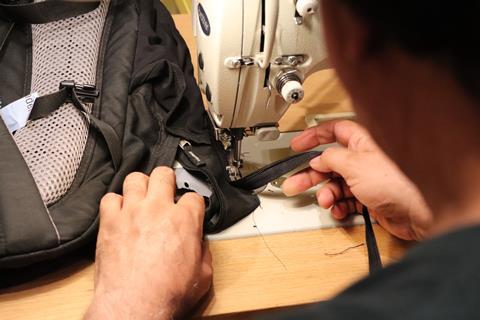 Retailers welcome repair, reuse and rental possibilities
Generally, many retailers seem to be embracing the idea of repair and reuse/rental services across Europe. German outdoor retailer Globetrotter (as CSR manager Fabian Nenzda explains in our interview) sells refurbished and upcycled goods. Bergfreunde and Blue Tomato have been running rental services across many product categories, and from the Courchevel and Meribel-based store The Boot Lab, the ReAction Collective was born — a non-profit that unites 20 organizations working on circular models for outdoor sports equipment and refurbishing donated apparel. Within the network are numerous repair organizations like Rerun, Bluebird Exchange, Sheffield Clothing Repair and others.
The main difficulties are availability of materials, education, and financial support. Repair shops get around these difficulties by modifying the materials they get their hands on and by building up stocks of unrepairable products to reuse the fabric from. Gavin Fernie-Jones, founder of the ReAction collective, sees a solution in verified independent repair shops, but: "We face challenges, most of these could be overcome with the support of brands. They could verify independent repairers based in communities and use these to carry out warranties."
Fernie-Jones thinks things could be easier if brands supported the movement and calls for them to use their voice: "We should easily be able to buy parts in a kind of 'right to repair' scheme, but brands have very little control over their supply lines. There is a whole area of circularity where brands could focus and work to design products that are more easily repairable, with parts accessibility. We believe in giving people agency and are discovering that there is a huge community of people that want to carry out their own repairs. The project we have in the pipeline is to create a circular hub on the Re-Action site that will teach repair and product maintenance."
Additional services like repair and/or return also need to be organized logistically — a task that is a challenge, especially on a larger scale. This is why Globetrotter, for example, works with I:Collect, an international specialist service provider for the return and handling of textiles and shoes. Ridestore has signed the Swiss company Texaid for its Renewed secondhand project. Rab (who runs a comprehensive resale program for repaired products named Second Stitch) works with Minardi Piume to handle its down recycling program, Haglöfs partners with The Renewal Workshop. And the list goes on… Circular services are a growing industry.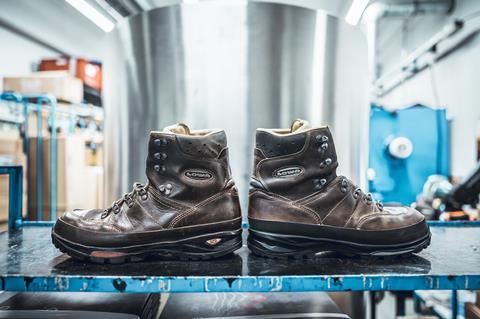 Mechanical and chemical recycling is crucial for mass products
What about wear and tear products like running shoes, jerseys, baseball caps, balls, fitness equipment and so on? Where repair is not an option to prolong a product's service life, circularity must still be considered. According to the EU, a solution must be found for disposable products with a relatively short usage. This particularly affects large manufacturers such as Puma, Adidas, Nike or retail brands like Intersport, Decathlon, and so on, who are searching for ways to deal with their millions of products in use.
To date, uncounted amounts of apparel and shoes get exported to — for example — Africa, where they either get sold on local markets (and destroy the local industries and retail as a side effect) or are disposed of in landfills. How common the practice of waste export was impressively exposed in 2021 by Sneaker Hunt, a German-based project that has returned old sneakers fitted with GPS-trackers.
For major brands with a wide range of products, the topic of repair remains limited to just a few product types. Of the millions of fan jerseys sold annually by Adidas, Puma, Nike, Umbro, or Jako, few will see a sewing machine for a second time in the course of their product life. For those companies, one option may lie in building resilient infrastructure and large capacities for mechanical and/or chemical recycling of their (hopefully) fully circular, single-material products.
"Technically, there is much more work to be done. But on polyester it's really something we can plug-in extremely fast," says Anne-Laure Descours, CSO at Puma in our interview. Projects like Puma's ReJersey initiative or the fully circular capsule recently unveiled by Adidas are likely to be the more viable approach to the circular economy for these brands, even though to date, they constitute only a fragment of the 100 percent polyester units sold by the brands.
Evolve or break the linear system
As the exact wording of the Green Deal has yet to be finalized, the big players of the sporting goods industry could hope that legislators will spare them from mandatory repair services for their quickly worn-out products. But even this shouldn't stop them from developing other solutions.
Arc'teryx's director environmental and social sustainability Katie Wilson comments: "Our business and the entire industry has been built on a linear model, so in addition to educating teams and guests we also need to build new ways of doing business — sourcing materials, building BOMs, designing product, creating value for our guest. It all requires us to evolve, or in some cases break, the way we currently do business."