Craghoppers, Elkine and On Running are the most popular and well-reviewed brands among outdoor sports and bike customers in German-speaking countries. These are the results from an exclusive analysis by EDM Publications and big data and AI specialists Insaas.ai.
The new analysis by EDM Publications and Insaas examined almost 147,000 customer reviews from 90 of the biggest outdoor and bike brands in German-speaking countries to find what consumers really think about brands in five key areas. There were some clear winners and a few surprises in our Reviewing the Reviews: Share of Voice analysis.
Our exclusive analysis looked at five common elements of customer reviews – including fit, design, and material considerations – taking data from eight major German-speaking marketplaces to determine the most positively and negatively regarded outdoor and cycling brands. Which sporting and outdoor brands are the best reviewed? We have the figures.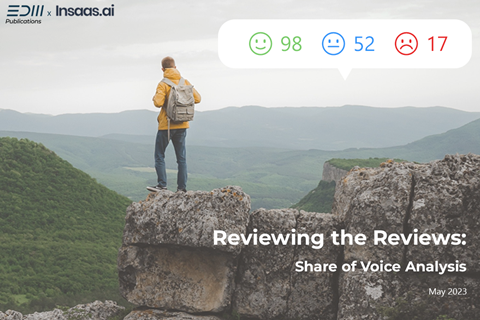 Craghoppers is a customer favorite, tops brand equity measure
"Brand equity" is the perceived worth of a brand-name product over another generic firm offering the same or similar item and is best described as the additional value that a recognizable brand name adds to a product. Whilst it is linked to brand recognition (a customer must be initially aware of the brand), brand equity emphasizes the added value that the brand name provides to the product.
When a company has positive brand equity, customers will likely pay a higher price for its products, even though cheaper versions are available. Brands with high brand equity are also more likely to be recommended and generate loyalty. Reviews are key to brand equity, both establishing it and growing the brand value in potential consumers.
To calculate customer sentiment about the worth of a brand, all customer reviews that combine words directly with the brand name were included. Positive formulations would be, for example, "optimal," "best," and "high-quality."
Craghoppers is one step ahead in terms of brand equity in German-language customer reviews. In our analysis, the British brand Craghoppers is the outdoor and cycling brand most trusted and liked by consumers. Second in this category is German outerwear and clothing brand Elkline, ahead of On Running, which was included in our analysis along with other running shoe brands.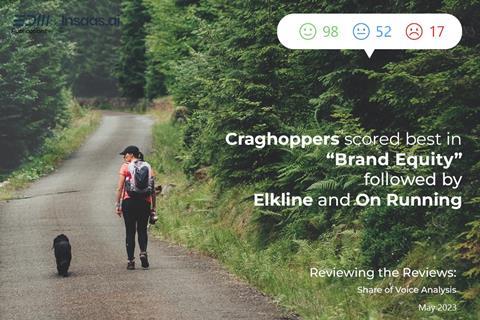 Elkline is an outdoor brand customer favorite when it comes to materials
For the sentiment analysis in the Material area of customer reviews, formulations such as "good/bad hold," "soft," "warm," or "firm" were included, depending on the product. Of course, these formulations differ depending on which product was being evaluated by the customers, for example, whether it was a backpack, shoe, or jacket.
When it comes to materials used by outdoor and cycling brands, Elkline achieves the most positive consumer ratings and takes the top spot in customer reviews of material. The clothing manufacturer is ahead of Velmia, the bicycle accessories supplier, and Smartwool, the wool specialist, who achieved second and third place for the best materials, as rated by consumers.
Many brands are struggling with negative reviews regarding fit
When it comes to fit – Product Sizing – some outdoor and cycling brands have to contend with clearly negative customer ratings. In our analysis of 90 leading brands, thirty-five brands fall into negative territory.
For sentiment analysis in the area of Product Sizing, formulations such as "too small," "fits well/badly," and formulations in connection with the word "size" or, for example, "narrow" were included in the assessment.
When buying outdoor or cycling equipment, customers of backpack and sleeping bag specialist Deuter are the most satisfied with the fit of the product, followed by Fox Racing. The California-based specialists in mountain bike and motocross offer both bike clothing and safety equipment for mountain bikers, where the correct fit is critical. Third place goes to Ela Mo: A German start-up and B-Corp, selling backpacks.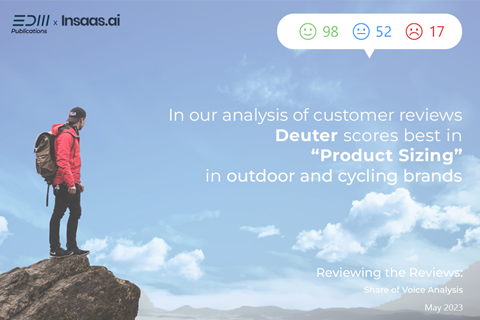 Uvex secures a victory with consumers in design reviews
To conduct our sentiment analysis in the area of Design, words used in reviews such as "impression," "color," "workmanship," or, of course, "design" were included in the evaluation.
In terms of design, customers buying outdoor items of cycling equipment are much more satisfied with brands. However, this is also logical since it can be assumed that customers will not buy products if they do not like the design in the first place.
Eyewear and helmet specialist Uvex is ahead in the number of positive reviews for good design, in front of Ela Mo and Elkline, who take second and third place.
Reviews show sporting brand consumers are mainly satisfied a product is fit for use
Once again, when reviewing whether customers feel an outdoor or cycling product is fit for use, the ratings are mainly positive. Zimtstern achieves the best review ratings for its mountain bike clothing, ahead of Elkline and the German bike apparel manufacturer, Gonso.
To establish consumer sentiment in the area of Fit for Use, formulations were included that illustrate the intended use, such as "climbing," "cycling," or "winter," and which relate it to the product. The parameters measure whether customers think that the purchased product fits the intended use.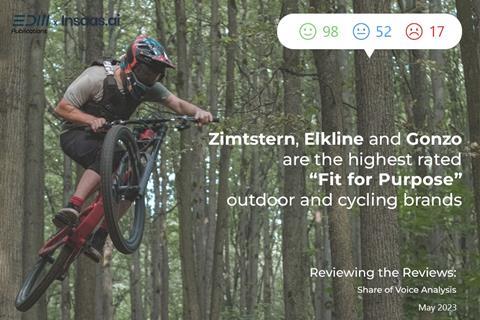 Methodology
A share of voice (SOV) analysis usually measures a brand's visibility across different marketing channels against its competitors to give an overview of a brand's position in the market. An SOV metric can measure how well adverts, social media mentions, or website traffic compares to the competition. In our EDM Publications x Insaas Reviewing the Reviews: Share of Voice analysis, we looked at how outdoor and bike companies were reviewed.
We evaluated a total of 146,683 ratings with star ratings and 125,260 written customer reviews (comments), from eight German-language shopping platforms (Bergfreunde.de, Amazon.de, Bergzeit.de, Rosebikes.de, fahrrad.de, zalando.de, otto.de, bike-components.de) using big data language analysis. The evaluations of 25,596 different products with clearly identifiable UCP numbers were summarized. The frequency of mentions and the sentiment of the rating (positive or negative) were "linked."
We have limited our ranking to the most prominent 90 brands reviewed in German-speaking countries, with at least 50 ratings. This ensures we have enough data points (evaluations) for objective, reliable and valid statements.
About Insaas.ai
Munich-based Insaas.ai makes data accessible to everyone. The goal of its AI-based software is to create software applications for marketing, market research and product development purposes.
Traditionally, direct feedback, customer service, and market research sit in separate data silos, making it difficult to get a 360-degree view of the customer's voice. At the same time, the personalization of communication and products is a growing priority to retain customers and increase brand loyalty. To cope with the growing amount of data, customer research needs to be automated.
With Insaas.ai, marketing, sales and product departments have data at hand that enables them to aggregate customer feedback from various internal and external channels and analyze thousands of customer opinions in terms of metrics. Insaas.ai helps companies shorten their lead times by processing millions of texts and taking the next best actions to optimize their products and marketing.
For more information, visit their website: Insaas.ai